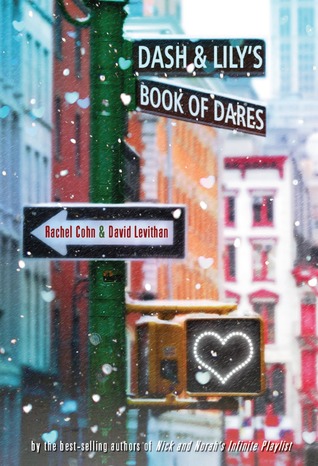 Dash and Lily's Book of Dares by Rachel Cohn and David Levithan
Published Knopf Books 2010
Genre: Young Adult Contemporary
Format: Hardback from the library
"I've left some clues for you.
If you want them, turn the page.
If you don't, put the book back on the shelf, please."
So begins the latest whirlwind romance from the bestselling authors of Nick & Norah's Infinite Playlist. Lily has left a red notebook full of challenges on a favorite bookstore shelf, waiting for just the right guy to come along and accept its dares. But is Dash that right guy? Or are Dash and Lily only destined to trade dares, dreams, and desires in the notebook they pass back and forth at locations across New York? Could their in-person selves possibly connect as well as their notebook versions? Or will they be a comic mismatch of disastrous proportions?
Rachel Cohn and David Levithan have written a love story that will have readers perusing bookstore shelves, looking and longing for a love (and a red notebook) of their own.
I loved this book! It was such a great, cute Christmas-y read. Recently, when looking up Christmas books, this one seemed to be coming up everywhere. I decided to pick it up!
First, I love the setting in this book. New York City is my favorite place I've ever visited and I love it. It's so beautiful and the feeling of the city just latches onto you as soon as you step in the middle of the city. NYC is fantastic and I really want to go back someday. This book was like transporting me back into the city that I love, but mixing it together with Christmas, making a great setting! I love Dash and Lily exploring the city as locals because we get a really good feel for the city, without even going to some of those places before. They have really great adventures all throughout the city, especially with the Christmas twist.
Dash and Lily are really great characters. Although they might not be totally relatable, they are quirky and written well. Dash hates everything about Christmas, but it's never annoying or too much. He just has this funny little spite for it, especially when complemented by Lily who lives and breathes everything about Christmas. They both have so many little quirks to them – words they use, how they dress, what they like to do, where they hang out, etc. But they are written so it isn't obnoxiously quirky or annoying. I loved all their quirks instead of hating them and it made the characters more well rounded.
The romance aspect was really cute, until they met. The journal being passed back and forth was really fun. I loved seeing what challenge they would have to do or where they would have to go next. It took them all over the city and they got to go on some really great adventures through the journal. After they met, it was a little awkward, obviously because they had never met before. Other than that, I like how it was left open for more development after the holidays. I didn't need to see the relationship fully there because the buildup was really the best part.
Overall, I enjoyed this book! It was a great Christmas read. I loved the characters and the setting, although I wish the ending and the relationship was a little less awkward…