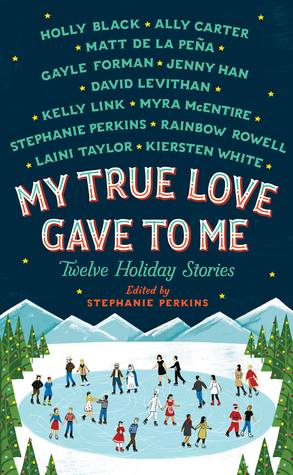 My True Love Gave to Me: Twelve Holiday Stories Edited by Stephanie Perkins
Published St. Martin's Press 2014
Genre: Young Adult Contemporary/Fantasy
Format: Hardback from the library
If you love holiday stories, holiday movies, made-for-TV-holiday specials, holiday episodes of your favorite sitcoms and, especially, if you love holiday anthologies, you're going to fall in love with MY TRUE LOVE GAVE TO ME: TWELVE HOLIDAY STORIES by twelve bestselling young adult writers, edited by international bestselling author Stephanie Perkins.
Overall, this book was really adorable and got me into the Christmas spirit! None of the stories were really terrible and I liked the way they were organized throughout the anthology.There was never too much of one type of story right in a row. I also liked the mix of fantasy and contemporary. Now, I'm going to review each of the short stories individually!
Midnights by Rainbow Rowell: I loved this one so much! It might have been my favorite, so it was probably a good decision to put it first. This book takes place over a series of New Year Eves and I really felt for the couple. Everything was so perfect with this book. 5/5 stars
The Lady and the Fox by Kelly Link: I liked this one, but I felt it dragged on for too long. There were also a couple of the fantasy elements that I didn't really get. The couple was particularly cute or the fantasy exciting. With some sharper details, it could have been a lot better. 2.5/5 stars
Angels in the Snow by Matt de la Pena: This was another of my favorites! I have never heard of this author before, but I really need to pick up some of his work. I like how he touched on some common issues, like moving away from home and being a poor college student, but he didn't focus just on that. The relationship between Shy and Haley was really cute, although you could tell Shy didn't really know what he was doing too much. 4.5/5 stars
Polaris Is Where You'll Find Me by Jenny Han: I didn't like this one and that makes me really sad, because I typically love Jenny Han! This one is set in the North Pole with the elves and Santa. The romance didn't work and the concept felt weird/short. I wasn't thrilled by this one at all. 2.5/5 stars
It's a Yuletide Miracle, Charlie Brown by Stephanie Perkins: Another favorite! Stephanie Perkins delivered (of course!). This was such a cute story and the couple was adorable. North was really sweet and the setting was really Christmas-y. 5/5 stars
Your Temporary Santa by David Levithan: I enjoyed this one! I appreciated the inclusion of a LGBT couple too. I loved how he was trying to dress up as Santa for his boyfriend's younger sister, which was just too cute. I think I missed something at the end though. 4/5 stars
Krampuslauf by Holly Black: This was very different and very dark. I didn't not like it, but it just threw me out of the feeling of the anthology. The supernatural elements were really cool and I liked the inclusion of more unique Christmas traditions. It felt a little weird, but it did get its tone through well. 4/5 stars
What the Hell Have You Done, Sophie Roth? by Gayle Forman: Another popular author that I didn't enjoy in this anthology! I thought this one focused too much on how the two main characters were different and unique in their college. Although I liked the couple, I didn't think that the relationship built up enough over time. I did like the inclusion of an interracial couple, because we don't often see that in YA literature. But I wanted more from their relationship. 3/5 stars
Beer Buckets and Baby Jesus by Myra McEntire: I loved this one! I haven't seen too many reviews that have liked it, but I enjoyed it. I loved both of the main characters and their relationship. It was really funny too, but it still had sweet moments as well. 4/5 stars
Welcome to Christmas, CA by Kiersten White: This one was really cute. I loved the magical elements, but also the diner mood and how everything came together in the end. It was a really beautiful, Christmas story that emphasized home and I loved it. 5/5 stars
Star of Bethlehem by Ally Carter: I was okay with this one. I didn't expect the twist at the end, but I did like to see how she adapted to farm life in Oklahoma. This one had a different meaning of family that I enjoyed and the way it ended was really cute and perfect for the story. 4/5 stars
The Girl Who Woke the Dreamer by Laini Taylor: I was nervous about this one because I haven't enjoyed Laini Taylor's books so far. However, I liked this one! The magical element was really well done and I liked the world that was built. The ending wasn't my favorite, but it was a good close for the anthology. 4/5 stars
*I came to my overall rating by averaging together all of my ratings for each individual short story.