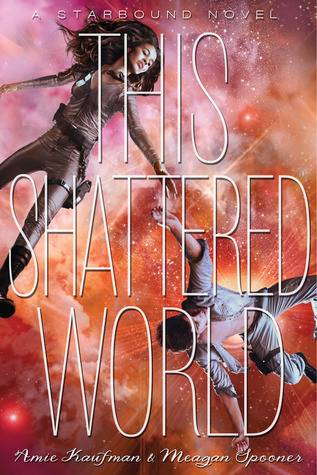 This Shattered World by Amie Kaufman and Meagan Spooner (Starbound #2)
To be published Disney Hyperion December 23 2014
Genre: Young Adult Sci Fi
Format: I received an egalley of this book for being a participant in the blog tour, hosted by the Midnight Garden. This did not affect this review or my opinions in any way. Thank you to Disney Hyperion and the Midnight Garden!
The second installment in the epic Starbound trilogy introduces a new pair of star-crossed lovers on two sides of a bloody war.
Jubilee Chase and Flynn Cormac should never have met.
Lee is captain of the forces sent to Avon to crush the terraformed planet's rebellious colonists, but she has her own reasons for hating the insurgents.
Rebellion is in Flynn's blood. Terraforming corporations make their fortune by recruiting colonists to make the inhospitable planets livable, with the promise of a better life for their children. But they never fulfilled their promise on Avon, and decades later, Flynn is leading the rebellion.
Desperate for any advantage in a bloody and unrelentingly war, Flynn does the only thing that makes sense when he and Lee cross paths: he returns to base with her as prisoner. But as his fellow rebels prepare to execute this tough-talking girl with nerves of steel, Flynn makes another choice that will change him forever. He and Lee escape the rebel base together, caught between two sides of a senseless war.
Recently, I read the first book in this trilogy of companion series, These Broken Stars, and loved it! It was the perfect blend of sci-fi and romance. This next book in the trilogy not only lived up to my expectations – but surpassed them. That's right, I enjoyed this book more than the first one!
I really liked both of our main characters – Flynn and Lee. Lee was a really strong military leader (along the feeling of June from Legend by Marie Lu). She's really brave and tough. Through each of her POV chapters, her personality really shown through. Lee is feisty and fun, but also has a very good sense of morals. I loved her character so much. Flynn is from the rebels. He didn't just feel like a love interest, but his own character. I liked how through Flynn, we saw so much of the culture of the rebels and why they were fighting. All of his personal ties to his people really brought through some strong messages. Of course, there is some romance in the book. However, it was perfectly done for me. It was too insta-love, which happens often in scifi/romance books. They were both equally served. The relationship had its issues, fulfilled by the main plot line.
The war that is happening between the rebels and the military is very interesting. There are some plot lines that carry over from the first book. While this is a companion series, I would still suggest reading these in order. I think it would probably just add to the overall reading experience to recognize some of the names and places that aren't so explained in this book, but are better done in the first one. I liked seeing these reappearances from the first book! It really tied it together as a second book, while also giving this one some ability to stand for itself. We learn more about the world from the first book. It's not a repeat of what has happened before, though – there is more material that we learn about. The science parts really bring everything together. Nothing about the world is ever confusing and it stems from the first book, so that more elements can be built up.
The writing was really great. We have two different perspectives from the main characters. I loved both of them and they also felt like different voices. I was never looking forward to getting through one perspective to get back to the other one. They both balanced each other. The world building was really well done, especially for a space book. Everything worked together really well in the end.
Overall, I loved this book! I found it better than the first one thanks to great new main characters and the new information we learn about the world. There are so many great plot details. It makes me really excited to get the next book in this trilogy next year. I would highly suggest this series to fans of Across the Universe by Beth Revis, or any science fiction fans.