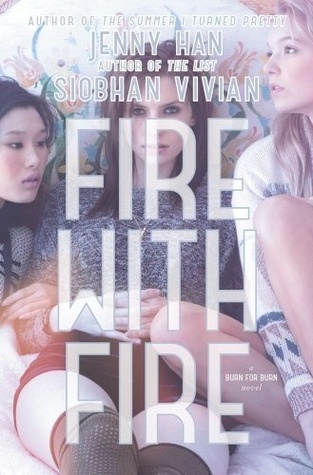 Fire With Fire by Jenny Han and Siobhan Vivian (Burn for Burn #2)
Published Simon and Schuster 2013
Genre: Young Adult Contemporary
Format: Hardback
Warning: There will be spoilers for the first book in this series! You can check out my review for Burn for Burn here.
When sweet revenge turns sour… Book two of a trilogy fromNew York Times bestselling author Jenny Han and Siobhan Vivian.
Lillia, Kat, and Mary had the perfect plan. Work together in secret to take down the people who wronged them. But things didn't exactly go the way they'd hoped at the Homecoming Dance.
Not even close.
For now, it looks like they got away with it. All they have to do is move on and pick up the pieces, forget there ever was a pact. But it's not easy, not when Reeve is still a total jerk and Rennie's meaner than she ever was before.
And then there's sweet little Mary…she knows there's something seriously wrong with her. If she can't control her anger, she's sure that someone will get hurt even worse than Reeve was. Mary understands now that it's not just that Reeve bullied her—it's that he made her love him.
Eye for an eye, tooth for a tooth, burn for a burn. A broken heart for a broken heart. The girls are up to the task. They'll make Reeve fall in love with Lillia and then they will crush him. It's the only way he'll learn.
It seems once a fire is lit, the only thing you can do is let it burn…
So much happened in this book! However, for the most part, my opinions on this series stayed the same from the first book.
I still love Lillia. She's my favorite character out of the main three girls. I felt really bad for her throughout this book though as she was struggling with the revenge aspect. Her job is to break Reeve's heart as payback for what he did to Mary. However, it doesn't really go as she planned. Lillia relates to me the most in that way. She always has a little bit more of her heart involved in the revenge situations. As much as she is in on them, she has a very interesting guilt complex. Unlike the first book, I liked Kat's character more. She's really a strong character and I liked how she was pretty much the exact opposite of Lillia. I also really want her to get into Oberlin! All of the girls have really cool college plans, so I'm looking forward to seeing where that goes. It's just something I always like in books. I'm still not a huge fan of Mary. The twist at the end was really weird and I'm still not a huge fan of the random supernatural hints in the book. Unless it really comes to connect in the last book, it's going to take the whole series down a notch for me.
Jenny Han and Siobhan Vivian are such good writers, especially together! I could never tell the difference between the two authors, even though I tried so hard. Both of their styles flow together really well together. I've read some of Jenny Han's work, but never Siobhan Vivian. I'll have to read more for the both of them.
This book was perfect to get me out of my reading slump. Since I loved the first one, I knew I would enjoy this book and I did. It was also a fast paced book that always kept me reading. It's a huge book and I read it in just two days. So much was always happening.
Overall, this was a really good sequel. Hopefully, I can read the last book soon and it will fix a few problems I have with the series!