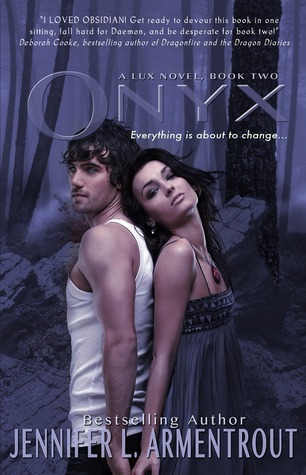 Onyx by Jennifer L. Armentrout (Lux #2)
Published Entangled Teen 2012
Genre: Young Adult Fantasy
Format: Kindle ebook
Being connected to Daemon Black sucks…
Thanks to his alien mojo, Daemon's determined to prove what he feels for me is more than a product of our bizarro connection. So I've sworn him off, even though he's running more hot than cold these days. But we've got bigger problems.
Something worse than the Arum has come to town…
The Department of Defense are here. If they ever find out what Daemon can do and that we're linked, I'm a goner. So is he. And there's this new boy in school who's got a secret of his own. He knows what's happened to me and he can help, but to do so, I have to lie to Daemon and stay away from him. Like that's possible. Against all common sense, I'm falling for Daemon. Hard.
But then everything changes…
I've seen someone who shouldn't be alive. And I have to tell Daemon, even though I know he's never going to stop searching until he gets the truth. What happened to his brother? Who betrayed him? And what does the DOD want from them—from me?
No one is who they seem. And not everyone will survive the lies…
This series is so much fun. After thoroughly enjoying the first book in this series, Obsidian, I was really excited to pick up the second book to see what happened next.
Onyx stills gives the same things that you probably loved about Obisidian – the Katy/Daemon romance is just as tense as usual, the aliens and paranormal features are well fleshed out, and this is a quick, fun read. There are some things that grew up about this book. By this point, the Twilight comparisons have stopped, especially because they are now on different paths. The plot really picks up. The first book focused on the basic mythology of the aliens and Katy discovering everything, but now she is able to take part and understand some of the complexities of the aliens. Katy has some really cool new powers in this book. I thought that this was a very interesting twist that we don't typically see in romance/fantasy novels. Katy wants to stand up for herself, instead of just letting her love interest take care of everything for her. She is consistently a strong female character, when she could so easily fall to Mary Sue standards with the striking presence of Daemon.
Daemon and Katy's relationship is so much fun. In this book, they are still trying to keep themselves apart. However, they really can't. It's just so great how it develops throughout the entire book. It doesn't just stay this way, but we can see as their emotions for each other go throughout different feelings. They have various phases even within this small amount of pages. Daemon is still a great love interest, but he lightens up in this book. It isn't just the brooding bad boy anymore. He gets some personality.
I did have some problems with Onyx. I felt like the pacing was a little bit off. There were many times that I was bored, waiting for the next thing to happen. There are some really great action scenes, but I skimmed some parts, waiting for the next big part to happen. Katy also makes really bad decisions and that just frustrated me so much. There is a new character, Blake, who is really interesting. I won't say more about him, but Katy reacts to this really badly and she just needed to get it together. It felt like it was mostly world building to get Katy's powers into the plot, but I do wish there was some more.
Overall, this book was pretty good. I really enjoyed the growth of Daemon and Katy, but I wish there was better pacing and more action throughout everything. However, the ending was really crazy, so I can't wait to pick up the next one!