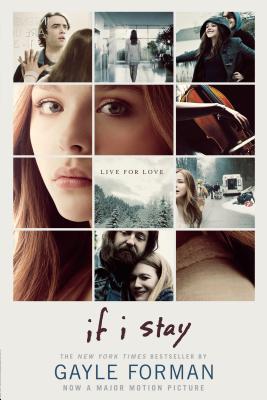 If I Stay by Gayle Forman (If I Stay #1)
Published Speak 2009
Genre: Young Adult Contemporary
Format: Kindle ebook
The critically acclaimed, bestselling novel from Gayle Forman, author of Where She Went, Just One Day, and Just One Year.
In the blink of an eye everything changes. Seventeen-year-old Mia has no memory of the accident; she can only recall what happened afterwards, watching her own damaged body being taken from the wreck. Little by little she struggles to put together the pieces- to figure out what she has lost, what she has left, and the very difficult choice she must make. Heart wrenchingly beautiful, this will change the way you look at life, love, and family. '
Now a major motion picture starring Chloe Grace Moretz, Mia's story will stay with you for a long, long time.
I was first drawn to this book after seeing the movie trailer, and then after one of my best friends saw the movie. I did go in with spoilers knowing about Mia's ultimate choice, but I was still excited to read more Gayle Forman. I have already read both Just One Day and Just One Year, also by Gayle Forman, but since this one of her books is the most well known – I was really anticipating this one.
The first thing that really surprised me about this book was how short is was. On my Kindle, it clocked in at only 196 pages and it took me only a few hours to read. It was enjoyable and I could really get immersed in the book. I read it in one sitting, so I was really enjoying this book and everything it had to offer. The beginning jumps straight into the action with the car crash, described very vividly and beautifully. This whole image is a little bit disturbing and was the hardest part for me to get through. It was just really sad to see everything being torn apart in her life.
The majority of this story is told from flashbacks to her life throughout various people – with her family, her brother, her best friend, and her boyfriend. I expected this to be a choice between her parents and her boyfriend when I first picked it up, but I liked how her decision didn't just depend on her love for her boyfriend. However, it showed so many different types of love and not just the romantic love. This was the best message that I took from this book – there are many types of love from people that aren't necessarily your family.
Mia was a little bit hard for me to like. I have never played a musical instrument, or am really interested in music at all, outside of turning on Spotify. Trying to find a way to connect with her was hard for me, especially since that was so much of her personality depended on her love for music. I enjoyed Adam's character. He was a really great boyfriend and Adam and Mia's relationship was great. They had their cute moments, but they also had their fights and problems. It was a really realistic approach. Kim, Mia's best friend, was also really fun and I loved her relationship. All of the relationships in this book were really great, really well defined, and really amazing. It showed how Mia was loved and loved so many different people.
The writing in this book was beautiful – just as I expected. The sentences were written in a beautifully poetic way that I enjoyed. It helped add so much to this story.
Overall, I really enjoyed this book! It had some beautiful themes and messages. While I felt like the whole story could have been extended a little bit more, the relationships and characters in this book were really strong. I'm looking forward to the second book in this duology!