Wow…another month of reading has already gone by! This month wasn't the best reading month, but it did give me a general idea of how hard reading with school would be. I have so many really challenging classes and extracurriculares, so reading just fell to the side this month. I'm pretty sure that's how it will be for the rest of the year as well. I thought this would happen…
Books I Read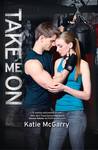 Four: A Divergent Collection by Veronica Roth
Ready Player One by Ernest Cline
Take Me On by Katie McGarry
My Life Next Door by Huntley Fitzpatrick
In comparison, I read 16 books in August…
My favorite book I read this month was Ready Player One!
A retelling – Four by Veronica Roth
I really love participating in Bookish Bingo! I will be doing the next holiday edition, for October, November, and December, as well! I will be doing a full wrap up for this card later this week.
TV Show Favorite:
Scandal (ABC)
Scandal is back and I am so happy about it! I am really excited to see what this season will bring.
Top 5 Songs:
How was your reading month? What was your favorite book, songs, or tv show?