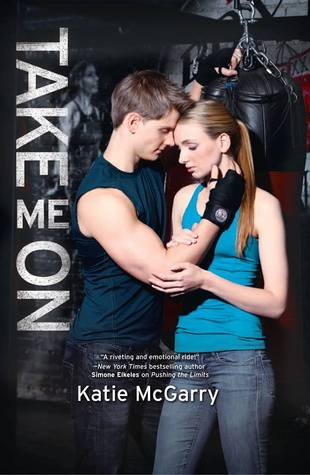 Take Me On by Katie McGarry (Pushing the Limits #4)
Published Harlequin Teen 2014
Genre: Young Adult Romance
Format: Hardback from the library
Acclaimed author Katie McGarry returns with the knockout new story of two high school seniors who are about to learn what winning really means.
Champion kickboxer Haley swore she'd never set foot in the ring again after one tragic night. But then the guy she can't stop thinking about accepts a mixed martial arts fight in her honor. Suddenly, Haley has to train West Young. All attitude, West is everything Haley promised herself she'd stay away from. Yet he won't last five seconds in the ring without her help.
West is keeping a big secret from Haley. About who he really is. But helping her-fighting for her-is a shot at redemption. Especially since it's his fault his family is falling apart. He can't change the past, but maybe he can change Haley's future.
Hayley and West have agreed to keep their relationship strictly in the ring. But as an unexpected bond forms between them and attraction mocks their best intentions, they'll face their darkest fears and discover love is worth fighting for.
Katie McGarry has impressed me so far with her first three novels, and I was excited to pick this newest one up.
West, Rachel's brother from the last book, is introduced to us with some strong opinions. He does not have a very good reputation going into the book. While I enjoyed his character from his own perspective, I was not a huge fan of his character. I really liked Hayley so much more than West. This was probably my own problem with the book. When I don't like one of the characters in a romance, it is hard to buy into their love that is happening. I never really found a reason to like West, or why Hayley should like him. The whole point of this book is that West wants to fight for Hayley and that she's worth fighting for. Maybe it's just the inner feminist in me, but I just kept wanting for Hayley to stand up for herself. She has a really bad past with the physical abuse she suffered from her past boyfriend and I really wanted her to grow from that. It just didn't happen the way I would have liked it though.
Another big aspect – other than the romance, of course – is the kickboxing aspect. West and Hayley's ex-boyfriend, Matt, are getting into a kickboxing fight at the end of the book. I am not a huge fan of fighting for sport, or really any kind of fighting, so it was hard for me to connect to that as well. I really wish that Katie McGarry would switch back to the kind of plot set up that happened in Pushing the Limits. There was no extra activity, like cars or fighting and it was just the romance. These types of things really hinder the story for me.
However, I still really enjoyed this book. It broke away from the plot set up found in the first three. They fell for each other differently, had different problems, and physically, did more in their relationship than any of the other couples did. I really liked seeing the diversity in this series, because not all couples are exactly the same. It made the book more unique to stand away from the first three. Also, the writing was great, as usual. I really liked all the research and thought that went into what was happening. West and Hayley come from completely different worlds, with totally different families and home situations, but both of them were written really well.
Overall, I liked this next book (although I am still waiting for Abby's book!). While I had some problems with the kickboxing aspect and West's character, Hayley and all of the new situations in this book really saved it for me. I am looking forward to continuing with Noah and Echo's story in the next book, as well as finishing this companion series.