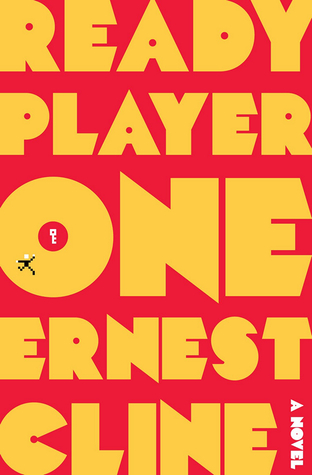 Ready Player One by Ernest Cline
Published Random House 2011
Genre: Adult Sci Fi
Format: Hardback from the library
It's the year 2044, and the real world is an ugly place.
Like most of humanity, Wade Watts escapes his grim surroundings by spending his waking hours jacked into the OASIS, a sprawling virtual utopia that lets you be anything you want to be, a place where you can live and play and fall in love on any of ten thousand planets.
And like most of humanity, Wade dreams of being the one to discover the ultimate lottery ticket that lies concealed within this virtual world. For somewhere inside this giant networked playground, OASIS creator James Halliday has hidden a series of fiendish puzzles that will yield massive fortune — and remarkable power — to whoever can unlock them.
For years, millions have struggled fruitlessly to attain this prize, knowing only that Halliday's riddles are based in the pop culture he loved — that of the late twentieth century. And for years, millions have found in this quest another means of escape, retreating into happy, obsessive study of Halliday's icons. Like many of his contemporaries, Wade is as comfortable debating the finer points of John Hughes's oeuvre, playing Pac-Man, or reciting Devo lyrics as he is scrounging power to run his OASIS rig.
And then Wade stumbles upon the first puzzle.
Suddenly the whole world is watching, and thousands of competitors join the hunt — among them certain powerful players who are willing to commit very real murder to beat Wade to this prize. Now the only way for Wade to survive and preserve everything he knows is to win. But to do so, he may have to leave behind his oh-so-perfect virtual existence and face up to life — and love — in the real world he's always been so desperate to escape.
A world at stake.
A quest for the ultimate prize.
Are you ready?
This book has SO MUCH HYPE around it, making me both super excited and really nervous to pick it up and start reading.
The only problem that I really had with this book was the amount of info dumping at the very beginning. I think for around the first seventy pages or so, it's all just information about the world and OASIS. I did enjoy this part. Every little detail of the world is really thought out. There weren't any huge world holes in how this society worked. It all seemed really realistic and very similar to something I could see the world developing towards. In some ways, it reminded me of 1984 by George Orwell. The dystopia based on the world at the time Orwell was writing was realistic to the way he thought the world developed, but also, Ready Player One was a version of a dystopian world that could happen for us now. At this point, we have probably read so many different versions of the future – but this is probably one of my favorites.
All of the adventure in this book was so much fun. I really loved how long the book was. It covered such a huge amount of time. It showed how slowly something like this huge puzzle came together. There were so many twists and turns. It wasn't always clear what was going to happen next and I really enjoyed that. Parzival, or Wade, was our main character. He was very unique. All of the characters had two personalities – their online avatar and their real personality. It was really interesting to see how the characters (and ourselves) change online, to become more outgoing or appear as a different person. The ability to change what you look like, what you sound like, even your name and full identity is one of the key aspects of the book. It's really scary how OASIS is set up like this.
The writing is this book is really descriptive and beautiful. There are many themes running throughout the entire plot. All of the detail is also incredible. There is a full blown history of the creators of OASIS and its development, as well as all the 80s culture references, the unique names of the planets, the usernames, and the puzzle itself. I was blown away by the ability of Ernest Cline to capture so much in this novel! I also really enjoyed how it seemed a little bit like Apple and had some parts coming off of current technology today.
Overall, I really enjoyed Ready Player One! It was a great, fun science fiction, but it also really got me thinking about the role technology plays in our lives. I would highly suggest this book.