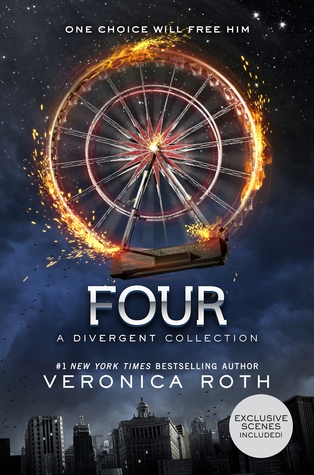 Four: A Divergent Collection by Veronica Roth
Published HarperCollins 2014
Genre: Young Adult Dystopia
Format: Kindle ebook
Two years before Beatrice Prior made her choice, the sixteen-year-old son of Abnegation's faction leader did the same. Tobias's transfer to Dauntless is a chance to begin again. Here, he will not be called the name his parents gave him. Here, he will not let fear turn him into a cowering child.
Newly christened "Four," he discovers during initiation that he will succeed in Dauntless. Initiation is only the beginning, though; Four must claim his place in the Dauntless hierarchy. His decisions will affect future initiates as well as uncover secrets that could threaten his own future—and the future of the entire faction system.
Two years later, Four is poised to take action, but the course is still unclear. The first new initiate who jumps into the net might change all that. With her, the way to righting their world might become clear. With her, it might become possible to be Tobias once again.
From #1 New York Times bestselling author Veronica Roth comes a companion volume to the worldwide bestselling divergent series, told from the per-spective of the immensely popular character Tobias. The four pieces included here—The Transfer, The Initiate, The Son, and The Traitor—plus three additional exclusive scenes, give readers an electrifying glimpse into the history and heart of Tobias, and set the stage for the epic saga of the Divergent trilogy.
I picked up the first novella back when it came out originally, and after the rest were delayed, I downloaded the rest separately on my kindle. Over the past month, I have been working my way through the last three and I finally finished them. I just decided to do one review for all four.
I really liked that these novellas focused on Four's story as he was entering Dauntless. His story is revealed in pieces throughout Divergent (and especially in Allegiant), but it was really nice for all of those pieces to come together. It was interesting to see how the Dauntless got more strict and violent before Tris came. There was more insight into the faction system provided by Four, as well as some interesting conversations with his mother. My favorite was probably The Traitor, just because it took place with Tris at the same time the events in Divergent were happening. I really like split POVs for romances and that was really great that we were able to have that from Four.
Four's voice is very similar to Tris'. While Veronica Roth's writing has developed throughout the series, there is still a distinct quality. It's not necessarily bad or good, but it just reminds me of the writing advice to 'show, not tell.' There were many times throughout the novellas where Four's thoughts would be directly laid out in a simple sentence, although it would have been better done without directly telling the reader. It almost seems like Veronica Roth is writing down to the reader, instead of bringing the reader to her level. I didn't need for it to be clearer, but it already was without the clarification.
Four is a character that I was always so-so about when reading the series, especially as he developed. In the last two books, I had problems identifying with his character's struggles and his problems with feeling loyal to one group. In Allegiant, he really bothered me the whole way through for having the wrong focus. I think that this helped me understand his character a little better, as did Theo James' portrayal in the movies. Overall, I feel more connected with Four as a character. It didn't really make me miss the Divergent series, but it was nice to see some plot holes with Four's life close up a little better before letting it finally go.