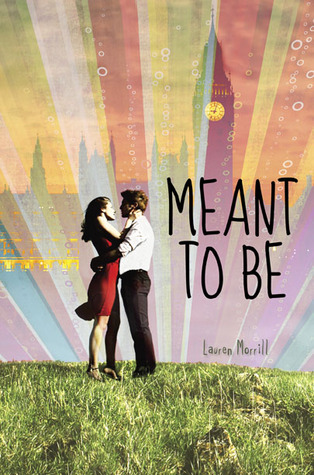 Meant To Be by Lauren Morrill
Published Delacorte Books 2012
Genre: Young Adult Romance
Format: Hardback
Meant to be or not meant to be . . . that is the question.
It's one thing to fall head over heels into a puddle of hazelnut coffee, and quite another to fall for the—gasp—wrong guy. Straight-A junior Julia may be accident prone, but she's queen of following rules and being prepared. That's why she keeps a pencil sharpener in her purse and a pocket Shakespeare in her, well, pocket. And that's also why she's chosen Mark Bixford, her childhood crush, as her MTB ("meant to be").
But this spring break, Julia's rules are about to get defenestrated (SAT word: to be thrown from a window) when she's partnered with her personal nemesis, class-clown Jason, on a school trip to London. After one wild party, Julia starts receiving romantic texts . . . from an unknown number! Jason promises to help discover the identity of her mysterious new suitor if she agrees to break a few rules along the way. And thus begins a wild goose chase through London, leading Julia closer and closer to the biggest surprise of all: true love.
Because sometimes the things you least expect are the most meant to be.
This was the perfect book I needed to cure me from my book hangover. It was such a fun contemporary book that was really relatable.
Julia is such a fun and quirky character. She is a little shy, very nerdy, and has so many cute quirks. Everything about her character was really refined so she came off real. I felt like I knew Julia and I was best friends with her in real life. Jason is our other main character. He has the same human quality that Julia has. They both have their faults, their quirks, their problems. Jason is the total opposite of Julia. He is very spur of the moment, fun loving, and popular. Jason and Julia get paired together for their class trip, kicking off their fun adventures around London.
I really liked how the romance developed. It is obvious what is going to happen at the end, but I liked watching everything play out the way it did. Julia likes her 'meant to be,' Mark, who has been her neighbor since she was a child. She is convinced that they are supposed to be together, although she doesn't have a very close friendship with him at all. Julia has just admired him from afar, something I really understand. She is trying make her fantasy a reality, something that Jason helps her with overcoming.
London was such a beautiful city for the story to take place in. They are on a class trip, but Julia's parents went there for a honeymoon, so she has some interest with the city other than that. The settings and locations around the city are all described really well. I loved how much detail went into it so I really felt like I was walking along the streets of London with Julia and Jason.
This book isn't just about the romance though, something that I really liked. There is a great lesson in the book. I wont' spoil it, but the ending is super cute!
I would really recommend this book for fans of Stephanie Perkins – so much of it reminded me of a book she would write. Super cute characters, lots of fluffy, fun romance, and a great location for it all!
Overall, I enjoyed this book so much! It was a great contemporary romance read and I'm looking forward to reading more from Lauren Morrill.