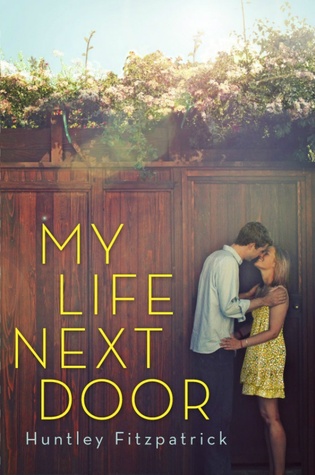 My Life Next Door by Huntley Fitzpatrick
Published Dial Books 2012
Genre: Young Adult Romance
Format: Paperback from the library
"One thing my mother never knew, and would disapprove of most of all, was that I watched the Garretts. All the time."
The Garretts are everything the Reeds are not. Loud, messy, affectionate. And every day from her rooftop perch, Samantha Reed wishes she was one of them . . . until one summer evening, Jase Garrett climbs up next to her and changes everything.
As the two fall fiercely for each other, stumbling through the awkwardness and awesomeness of first love, Jase's family embraces Samantha – even as she keeps him a secret from her own. Then something unthinkable happens, and the bottom drops out of Samantha's world. She's suddenly faced with an impossible decision. Which perfect family will save her? Or is it time she saved herself?
A transporting debut about family, friendship, first romance, and how to be true to one person you love without betraying another.
I really hated this book until the very ending – which strangely is the reverse for most people. After reading all of Stephanie Perkin's books, I was told that Huntley Fitzpatrick would be a great author for similar books. I started What I Thought Was True around a month ago, and DNFed that one. This book is more popular though, so I decided to give it a try.
My main problem with the book was that Jase had no personality throughout the entire thing. Other than his good looks, work ethic, and dedication to his family, he really has no personality. All of his other family members really outshadow him, all with different quirks and personality types. Jase was just there to serve as the forbidden love for Samantha. I didn't connect with his character at all. His family really overshadowed him. All of his brothers and sisters had so much life and spunk (although I do wish the girls didn't have boy's names. It would make it easier to distinguish).
Samantha and Jase's relationship was also terrible. It was mostly physical for the first 80% of the book. They start their relationship only a few weeks after meeting, and have sex maybe a month later. While I do appreciate how that was approached in a young adult book, I really did not like how their relationship was so rushed. I understand that the book only took place after one summer, but that doesn't mean that everything should be sped up in the same manner. We should just be getting a little three month snapshot of their relationship. The pacing was really off through the entire book.
There is a little bit of a twist at the end that some people haven't really liked, but it was my favorite part. In fact, it gave the book an extra star. It takes the focus away from their relationship and instead focuses on the family aspect of the story, which I really wish we got more of. They both come from very different family situations, so I wished the book focused more on family relationships, rather than their romantic relationship.
Overall, I had some major problems with this book – insta love, too much physical stuff, the pacing, and Jase's character. While I did enjoy the ending, it didn't change much of my opinion on the book. I won't be picking up any more of Huntley Fitzpatrick's books. They just aren't for me – but maybe people love them!