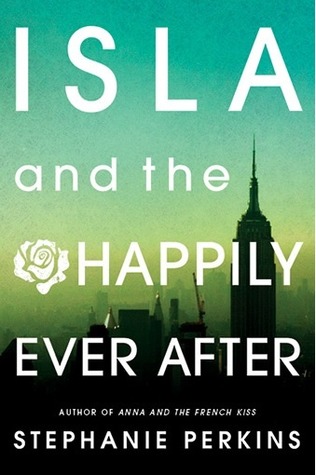 Isla and the Happily Ever After by Stephanie Perkins (Anna and the French Kiss #3)
Published Dutton 2014
Genre: Young Adult Romance
Format: Hardback
From the glittering streets of Manhattan to the moonlit rooftops of Paris, falling in love is easy for hopeless dreamer Isla and introspective artist Josh. But as they begin their senior year in France, Isla and Josh are quickly forced to confront the heartbreaking reality that happily-ever-afters aren't always forever.
Their romantic journey is skillfully intertwined with those of beloved couples Anna and Étienne and Lola and Cricket, whose paths are destined to collide in a sweeping finale certain to please fans old and new.
I loved the first two books in this series, so I picked this one up on release day and read it in the very same day! However, it just didn't impress me like the first two.
This book just didn't leave me with the same uplifting, happy feeling that I was left with after reading the first two.
Isla was an okay character. She didn't leave me with as much as Anna and Lola did. Most of Isla's problem is that she doesn't understand who she is, which is okay. But other than Josh, she had no personality. That was really frustrating. Yes, the book is about romance, but in order to have that, there also have to be two amazing characters that come together. Isla lacked a spark to her that made her character feel more human. Seriously, if you asked me to describe Isla, I would have nothing for you. Confused, maybe. She never really seemed shy, more like that was just her initial character trope. Isla never acted shy, especially around Josh.
I have always liked Josh since Anna, so I was really happy he had an entire book for him. There just wasn't enough of him. In Anna, St. Clair had problems and so did Cricket in Lola. Josh had a little bit of problems with his parents' political career, but it turns out that was just something Isla had assumed about him the entire time. Josh just served to be the love interest, something that I really can't stand. There wasn't insta-love in this book, as seen through the development of the crush, but there were never any reasons for them to like each other. I was waiting for something and got nothing. It just made their relationship not very believable.
My final major problem was the lack of setting. In the first two books, Paris and San Francisco were portrayed so beautifully. There was none of that happening in Paris or New York City or Barcelona, all cities with their very own spunk.
I did enjoy parts of this book though – there were scenes that I really liked. This book is more adult than the first two books, which are just cute romances. Isla and Josh have a much quicker and intense romance than the other books, so they do have more physical, intimate moments. I'm normally okay with it, but it made the point that Isla wasn't shy and defined their lack of reasoning behind the relationship even more. I liked the slow buildup with the first two, but by page sixty, stuff was already happening for the two characters.
They both had some really great scenes, but it just didn't live up to the Stephanie Perkins glow for me. I still enjoyed it as a quick read, but it was my least favorite of the series. My ranking is still Lola, Anna, and then Isla.
Have you read Isla and the Happily Ever After? What did you think? How much does the setting reflect on books you've read?