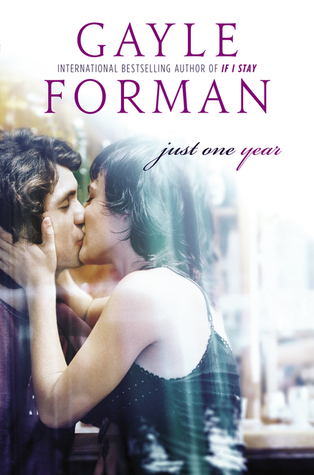 Just One Year by Gayle Forman (Just One Day #2)
Published Dutton Children 2013
Genre: Young Adult Contemporary
Format: Kindle ebook from the library
Just One Day. Just One Year. Just One Read.
Before you find out how their story ends, remember how it began….
When he opens his eyes, Willem doesn't know where in the world he is—Prague or Dubrovnik or back in Amsterdam. All he knows is that he is once again alone, and that he needs to find a girl named Lulu. They shared one magical day in Paris, and something about that day—that girl—makes Willem wonder if they aren't fated to be together. He travels all over the world, from Mexico to India, hoping to reconnect with her. But as months go by and Lulu remains elusive, Willem starts to question if the hand of fate is as strong as he'd thought. . . .
The romantic, emotional companion to Just One Day, this is a story of the choices we make and the accidents that happen—and the happiness we can find when the two intersect.
I loved Just One Day – you can check out my review here! Anyway, I was really pumped to pick this one up, even if it was just for Gayle Forman's beautiful writing! But I was a little disappointed in this one.
I'm not a huge Willem fan, and I'm still not a huge fan of him. He was nice to understand, especially his thing for accidents and the problems with his parents. However, I didn't really connect with him like I connected with Allyson in the first book. His search for 'Lulu' was not as strong as Allyson trying to find Willem. He made some attempts by going to Mexico when she went and trying to find the tour company, but neither of his attempts really worked. Willem just seemed different. There were so many scenes that I didn't really find necessary either. I enjoyed how he lived in India for a while with his mom, but it just seemed kind of weird for the rest of the story. However – I did like how his trip to Mexico influenced the rest of the story!
My one problem with this duology is that I am still not buying the Willem/Allyson romance. Just because someone dramatically changes your life doesn't mean you have to be in love with them. They both had an instant connection, so it feels a little like insta-love, but I don't want it to be! So, I'm kind of ignoring that…The romance just isn't my favorite though. With Allyson, she had a lot of coming of age stuff in her story but Willem didn't.
Gayle Forman still writes beautifully. I loved the themes of accidents and letting life take you, but also taking control of it sometimes. It was still a really great story.
Overall, I thought this book was okay. I had some problems with Willem, but the overall concept and themes of this book were great.