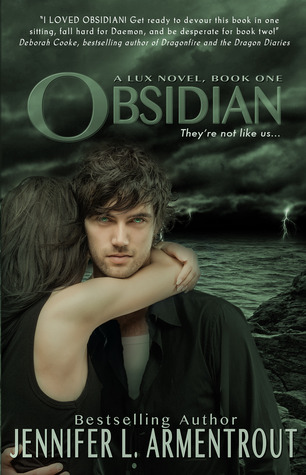 Obsidian by Jennifer L. Armentrout (Lux #1)
Published Entangled Teen 2011
Genre: Young Adult Paranormal
Format: Kindle ebook
Starting over sucks.
When we moved to West Virginia right before my senior year, I'd pretty much resigned myself to thick accents, dodgy internet access, and a whole lot of boring… until I spotted my hot neighbor, with his looming height and eerie green eyes. Things were looking up.
And then he opened his mouth.
Daemon is infuriating. Arrogant. Stab-worthy. We do not get along. At all. But when a stranger attacks me and Daemon literally freezes time with a wave of his hand, well, something… unexpected happens.
The hot alien living next door marks me.
You heard me. Alien. Turns out Daemon and his sister have a galaxy of enemies wanting to steal their abilities, and Daemon's touch has me lit up like the Vegas Strip. The only way I'm getting out of this alive is by sticking close to Daemon until my alien mojo fades.
If I don't kill him first, that is.
I had heard so much hype around this book and I was super excited to read it. It was exactly what I was looking for – a really fun read. It did not disappoint!
This is a paranormal romance very similar to Twilight, except with aliens not vampires. There are even some plot points that seem to be taken directly from Twilight (like how Daemon saves her from a truck/Edward does the same). However, it doesn't really take away from the book. There were so many similarities, but I'm looking forward to seeing where the rest of the series goes. The alien concept was really unique and I liked how it was explained. There weren't any paranormal plot holes. They also had a defined enemy – unlike Twilight – that I appreciated. The Luxen are against the Arum, therefore setting up a future plot for the rest of the books in this series.
Katy is a really fun character. I loved all of her banter with Daemon, but I still really want them to be a couple! I can't wait to see how their relationship develops throughout the series. Katy is also a book blogger, something I found really unique. I liked how dedicated she was to her blog and it was just something fun about her character. Daemon is a little annoying at first, but he gets better over time. I liked how he was always trying to protect his sister, Dee. There was a really good family relationship in this book, even with Katy and her mom.
This book isn't going to be a huge life changing series for me, but it's tons of fun. It serves it's purpose. Katy and Daemon were so funny and there were multiple times when I laughed out loud in this book. It was really fast paced and entertaining; I read it in one day. The alien stuff was also really captivating and kept me reading.
Overall, I really enjoyed this book! There were some similarities to Twilight, but it was just a fun read!