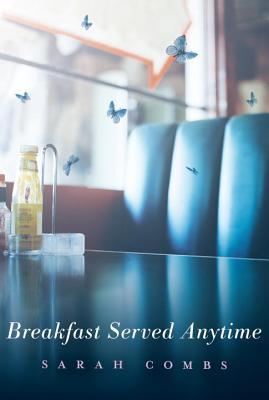 Breakfast Served Anytime by Sarah Combs
Published Candlewick Press 2014
Genre: Young Adult Contemporary
Format: Hardback from the library
A coming-of-age debut evokes the bittersweet joys and pangs of finding independence in one unforgettable summer away at "geek camp."
When Gloria sets out to spend the summer before her senior year at a camp for gifted and talented students, she doesn't know quite what to expect. Fresh from the heartache of losing her grandmother and missing her best friend, Gloria resolves to make the best of her new circumstances. But some things are proving to be more challenging than she expected. Like the series of mysterious clues left by a certain Professor X before he even shows up to teach his class, Secrets of the Written Word. Or the very sweet, but very conservative, roommate whose coal-industry family champions mountaintop removal. Not to mention the obnoxious Mason, who dresses like the Mad Hatter and immediately gets on Gloria's nerves — but somehow won't escape her thoughts.
Beautifully told by debut author Sarah Combs, this honest and touching story of growing up is imbued with the serene atmosphere of Kentucky's natural landscape.
There were like a billion plot lines happening throughout this book and then they all seemed to fall with absolutely nothing tied up at the end. And that made me sad because I really wanted to like this book.
I'm from Kentucky – so I get absolutely everything that was being said in this book about the culture of the state. Most kids do desperately want to get out, but the problem is that UK does take most students away with scholarship lures. Therefore, very few of us actually leave the area that we grow up in, making the whole state extremely generational. There were also good examples of every kind of person that you see in Kentucky – Gloria is the city kid, Calvin is the generational farm boy, Jessica was the poorer miner. The only character I didn't find very realistic to the roots of Kentucky was Chloe. Chloe is from Northern Kentucky – and people from that region typically associate themselves more with Cincinnati. Anyway, what I'm trying to say is that the aspects of Kentucky culture and geography were nailed spot on in this book. So…take it from me  that this is a really well written interpretation of a mess of a state.
The problem with this book is that nothing came together in the end. The summary makes it sound like a book about a girl getting over losing her grandmother and enchanted by these blue butterflies, which are mostly just afterthoughts. There is an attempt at some romance that just wasn't very believable. It wasn't that it happened too quickly, more like there was no chemistry between the two characters. Gloria was prone to a lot of dialoguing which also got annoying. It was a very slow paced novel because of that, when GSP (the program the book is based on) is really a lot of constant craziness. Really the only that kept me going was because I found it really relatable. My best friend and I both went to summer programs like this situation and our end of the week recaps were amazingly awesome. Gloria and Carol's relationship was what kept it going for me.
Overall, I think this book had a lot of promise. There are really good things done right – the friendships, the bond about summer camps, the Kentucky details. But everything else in between – the environmental plot, the romance, the actual English class, the loss of her grandmother and mother – just fell flat. With way too much monologuing, it just was really boring.
I would suggest this book if you are interested in Kentucky and books about friendships. What it does right, it does perfect.