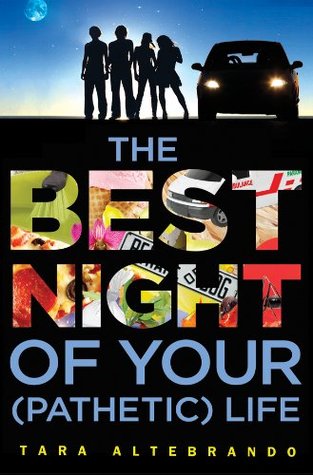 The Best Night of Your (Pathetic) Life by Tara Altebrando
Published Dutton 2012
Genre: Young Adult Contemporary
Format: Hardback from the library
An all-day scavenger hunt in the name of eternal small-town glory
With only a week until graduation, there's one last thing Mary and her friends must do together: participate in the Oyster Point High Official Unofficial Senior Week Scavenger Hunt. And Mary is determined to win.
Mary lost her spot at Georgetown to self-professed "it" bully Jake Barbone, and she's not about to lose again. But everyone is racing for the finish line with complicated motives, and the team's all-night adventure becomes all-night drama as shifting alliances, flared tempers, and crushing crushes take over. As the items and points pile up, Mary and her team must reinvent their strategy–and themselves–in order to win.
I'd never heard anything about this book or the author when I started – I just picked it up after seeing a random ad for it on Goodreads. The concept really intrigued me. This crazy scavenger hunt just sounded like a perfect storyline and I was really excited to jump right into it.
The main part of this book is obviously the scavenger hunt. The list goes from toilet paper to various types of puzzles to skinny dipping. It all takes place throughout one packed night as Mary's team goes around town, trying to get everything on the list. I really liked how random everything on the list was (seriously – how was this complied?) and the creativeness that helped their team. I had no idea where I would find some of these things or how to solve the puzzles. It was all just really crazy.
Mary was an interesting character. There was nothing really special about her. She had some problems after losing her spot at Georgetown, her crush on Carson, and Patrick's crush on her. I really liked how throughout this one night, she was able to learn so much about herself and come to terms with what happened during high school. Moments like this one night just really seem to help something. Mary was never anybody in high school who would do something like this scavenger hunt, yet she goes out of her comfort zone and really finds herself there. That was my favorite part of the book.
One thing that I didn't like about this book was the huge chapters. That may not sound like a huge deal – but with each chapter at nearly twenty pages, I found it really hard to sit down and read this book. It took me a while to get into. The book is short, so I read it in around a day. Tara Altebrando's writing is really great at describing the area and what is happening. I really felt like I was at all these different locations with them and experiencing the crazy scavenger hunt. It kept me constantly hooked on what was happening and wanting to know what would happen next. Mary's team wasn't constantly winning which made the story even more intense.
Overall, this book was really fun. I was really proud of Mary by the end for her accomplishments during the scavenger hunt. It was a great, unique concept!