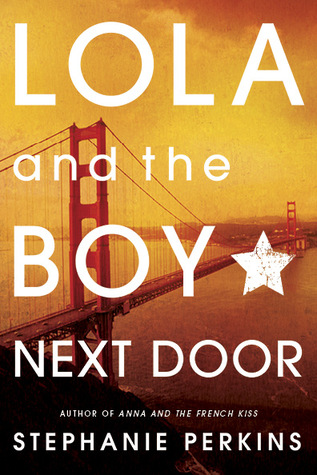 Lola and the Boy Next Door by Stephanie Perkins (Anna and the French Kiss #2)
Published Speak 2013
Genre: Young Adult Romance
Format: Paperback from the library
Lola Nolan is a budding costume designer, and for her, the more outrageous, sparkly, and fun the outfit, the better. And everything is pretty perfect in her life (right down to her hot rocker boyfriend) until the Bell twins, Calliope and Cricket, return to the negihborhood. When Cricket, a gifted inventor, steps out from his twin sister's shadow and back into Lola's life, she must finally reconcile a lifetime of feelings for the boy next door.
I was so happy to pick this book up because I loved Anna and the French Kiss. I just needed more of Stephanie Perkins' cute romance in my life! This book totally delivered, while not feeling like the same as the first book with different character names.
At first, I was a little worried about Lola's character. She's a costume designer and is constantly wearing all these crazy costumes and wigs. I personally am not into all of that at all, and since it seemed to be such a huge part of who she was, I felt I might not connect with her character very easily. Sure, I didn't understand most of what she was wearing (and would never wear any of it!) but she still felt real and I liked her passion for costume. The other thing I felt was a little off with her character was her first boyfriend, Max. Max is a rocker and he is so much older than her. I just didn't understand their relationship dynamic. It felt off the entire time – which was kind of the point. I think Lola just felt like she needed Max for some clingy reason. Max was just a terrible boyfriend up until the end and I just hated him.
Now…onto Cricket. I love Cricket so much. I liked him so much more than St. Clair. St. Clair and Anna did make an appearance in this book which I loved! They weren't just quick appearances either, but they helped to drive the plot and I loved having their characters back in this way. Back to Cricket…Cricket was the boy next door character and he really felt like that. All of their conversations between their windows were so cute and them 'accidentally' meeting on the sidewalk…I also really liked how he dressed and how that was described, as well as how he was tall. I could really see him as a real person while reading. So, Cricket is my new book boyfriend.
The plot of this book was really interesting. It was mostly about Cricket and Lola, but there were also some really awesome side characters. Lola's dads were really unique, because I have never seen this in a romance young adult book before, and her adoption story from her aunt was also really unique. I liked how that factored into the story. Calliope, Cricket's sister, was an ice skater. I love watching ice skating (I live way too in the South to do it myself!), but it was nice to see how her world worked and how much she cared for her brother.
Overall, I really loved this book! I think I still liked Anna more, just because Anna was a more relatable character, but Cricket was amazing! Really, I think the books are kind of on the same line. I'm super pumped for Ilsa now!