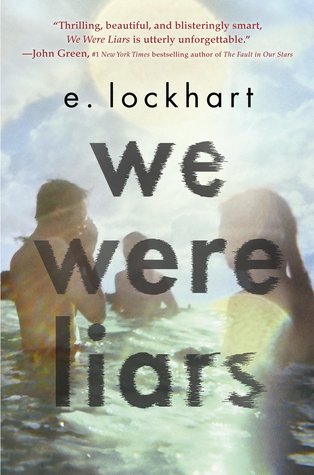 We Were Liars by E. Lockhart 
Published Delacorte Press 2014
Genre: Young Adult Contemporary
Format: Hardback
A beautiful and distinguished family.
A private island.
A brilliant, damaged girl; a passionate, political boy.
A group of four friends—the Liars—whose friendship turns destructive.
A revolution. An accident. A secret.
Lies upon lies.
True love.
The truth.
We Were Liars is a modern, sophisticated suspense novel from National Book Award finalist and Printz Award honoree E. Lockhart.
Read it.
And if anyone asks you how it ends, just LIE.
I literally have no idea how to review this book. It's better to read it with no idea of what is happening – like at all. I'll just post my initial reaction:
I just finished this book…and I'm currently so done…like I can't even think properly or fathom words or even just think in coherent terms, like…OMG THIS BOOK THO.

I'm shaking right now. And I'm also a little bit brain dead from the end there. Biggest twist in the history of life.

What is earth?

AHHHHHHHHHHHH
I JUST FINISHED WE WERE LIARS AND OH MY GOD I'M CRYING AND ALL THE FEELS AND WHAT IS LIFE

— Katherine (@neonyetireads) August 2, 2014
I feel like this gives you an accurate representation of the fantasticness that this book is.
The plot was so good, the characters were amazing, and the writing was perfect. I really can't say much more than that…
JUST READ IT.