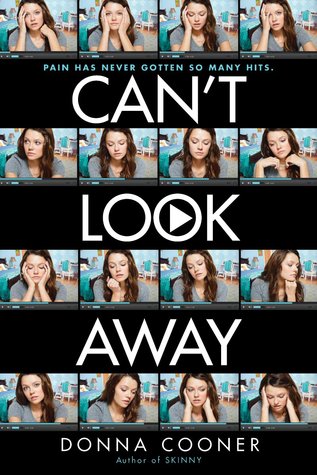 Can't Look Away by Donna Cooner
Published Point August 26 2014
Genre: Young Adult Contemporary
Format: I received an e-arc of this book from the publisher for review consideration. This did not impact my opinion or the content of this review in any way.
Donna Cooner establishes herself as our own Jodi Picoult in this timely tale of sisters, loss, and redemption.
Torrey Grey is famous. At least, on the internet. Thousands of people watch her popular videos on fashion and beauty. But when Torrey's sister is killed in an accident — maybe because of Torrey and her videos — Torrey's perfect world implodes.
Now, strangers online are bashing Torrey. And at her new school, she doesn't know who to trust. Is queen bee Blair only being sweet because of Torrey's internet infamy? What about Raylene, who is decidedly unpopular, but seems accepts Torrey for who she is? And then there's Luis, with his brooding dark eyes, whose family runs the local funeral home. Torrey finds herself drawn to Luis, and his fascinating stories about El dio de los Muertos, the Day of the Dead.
As the Day of the Dead draws near, Torrey will have to really look at her own feelings about death, and life, and everything in between. Can she learn to mourn her sister out of the public eye?
I really liked this book way more than I thought I would. When I first got the eARC, I just thought it would be like any other contemporary. The only thing that made me really excited to read this book was that the main character, Torrey, is a Youtube beauty guru. Instead, this book is filled with emotion and I was crying at the end of it all.
Torrey's younger sister dies in a car accident at the beginning of the novel and the rest of the book is about how Torrey is dealing with her sister's death. Torrey and her sister never really had a good relationship – it was a lot of sibling fighting back and forth, especially since they act like total opposites. Torrey wants her sister to be everything that she is, but her sister is very quirky and not really into beauty and fashion. I have a younger sibling like Torrey and this book really made me think about how we interact. It's a lot of the same fighting, but thinking about a death like this…it was just heartbreaking.
Torrey is also a makeup beauty guru. I thought this aspect was really cool, especially because this is such a part of teenage culture. More and more people are making Youtube videos, so I really liked how it was an important part of Torrey's character. However, I feel like this part of her character could have been done better and more research could have helped. Torrey is a huge beauty guru, but we never really see why she is so popular. It is mentioned that she has 300,000 subscribers, but really the popular beauty gurus have millions of subscribers. She starts making videos to get famous, but she hasn't really achieved that yet. It just seemed like she was making a big deal out of nothing.
I really liked Torrey's coming of age in her town in Texas. She has to deal with trying to get into the popular clique. This is done so many times in books, but it turned out differently than normal. Torrey needs so much attention and knows how to appear as popular and pretty. It's really nice to see how these relationships work out for her in the long run. There is also a romance with Luis which I really liked. It developed really well. Luis also brought the Day of the Dead aspect into the story which I really appreciated. I always thought the Day of the Dead was a really cool concept so I liked how that was included.
Overall, I really enjoyed this book. The relationship between Torrey and her sister was really eye opening and heartbreaking, as well as the story of how she finds herself. However, I felt the Youtube details a little wary.