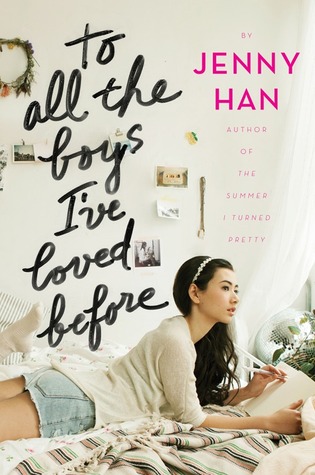 To All the Boys I've Loved Before by Jenny Han (To All the Boys I've Loved Before #1)
Published Simon and Schuster 2014
Genre: Young Adult Contemporary
Format: Hardback from the library
To All the Boys I've Loved Before is the story of Lara Jean, who has never openly admitted her crushes, but instead wrote each boy a letter about how she felt, sealed it, and hid it in a box under her bed. But one day Lara Jean discovers that somehow her secret box of letters has been mailed, causing all her crushes from her past to confront her about the letters: her first kiss, the boy from summer camp, even her sister's ex-boyfriend, Josh. As she learns to deal with her past loves face to face, Lara Jean discovers that something good may come out of these letters after all.
I loved this book so much!! It was a great, cute contemporary romance read.
Lara Jean was a fantastic main character. I really liked her relationship with her sisters and how she was the middle sister. Her older sister and her have always gotten along really well, until she moves away for college in Scotland. After that, she begins to have a better relationship with her younger sister. Lara Jean also has to take on a mother role for her whole family. The family dynamic in this book was so good. She was also a very fun, quirky character. I really liked how she wrote love letters to the boys she liked and her reaction to them all getting out. Lara Jean was super relatable and really fun.
My favorite part of the book was the dynamic between Lara Jean and Peter. It was probably one of the cutest romances I have ever read and it kept me re-reading their scenes over and over again. They start dating because they both need a reason to have a fake relationship. It is really cute to see how that develops and how Lara Jean deals with having a boyfriend for the first time, even though it is fake. They have a really good friendship throughout the whole book and I really like how it ended up at the end. Except I'm going to need that second book very soon!
The plot was so fun and really cute. I liked how Lara Jean went through her past to find the people that she once loved and how she has changed since then. Each of the letters shows a lot about her and her past. Josh is a really interesting character as well, but I also really liked Peter. Actually – I loved Peter!
Overall, I really enjoyed this book. It was super cute and really fun. Lara Jean has some crazy adventures in romance. I really loved this book and I highly suggest it!