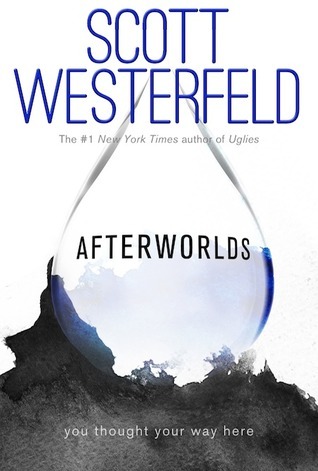 Afterworlds by Scott Westerfeld 
Published Simon Pulse September 23 2014
Genre: Young Adult Fantasy/Contemporary
Format: I received this as an e-arc from the publisher for review consideration. This did not affect my opinion or the content of this review in any way.
Darcy Patel has put college and everything else on hold to publish her teen novel, Afterworlds. Arriving in New York with no apartment or friends she wonders whether she's made the right decision until she falls in with a crowd of other seasoned and fledgling writers who take her under their wings…
Told in alternating chapters is Darcy's novel, a suspenseful thriller about Lizzie, a teen who slips into the 'Afterworld' to survive a terrorist attack. But the Afterworld is a place between the living and the dead and as Lizzie drifts between our world and that of the Afterworld, she discovers that many unsolved – and terrifying – stories need to be reconciled. And when a new threat resurfaces, Lizzie learns her special gifts may not be enough to protect those she loves and cares about most.
Since this is like two stories in one, I am first going to talk about what I thought of Afterworlds, as in the paranormal romance book and then the book as in Darcy's publishing story.
So first with the paranormal ghost stuff…
This part of the book was boring. Every time I ended one of the contemporary chapters, I groaned at the prospect of having to start one of the paranormal chapters. By the end, I just ended up skimming most of them. I think my main problem was just that there were way too many things happening – Lizzie was trying to discover the afterworld, solve the mystery of her ghost friend, solve a terrorist attack, the actual romance. To make it worse, most of the characters don't have names but are just referred to as 'the bad guy.' When there are like four 'bad guys', that doesn't really help much.
The Afterworlds were really boring and confusing. I hated the way the book began. The first chapter I really liked as the terriorist attack was happening, but as soon as she met Yamaraj, it started going downhill. Her relationship with Yamaraj was so rushed and it did not make any sense. They kiss in the first chapter, maybe five minutes after meeting. This is explained a little bit further on, but what is never explained is why they start dating and being in love and all that stuff. Yamaraj himself was a boring character, an attempt at the 'bad boy' trope. I didn't care what happened to him, at all.
As for the mystery aspects of it, I didn't connect with any of the characters in this part of the story. The writing wasn't particularly good and the plot was confusing. If this was a real series, there is no way I would ever continue on with it. It just wasn't very good…
Onto the contemporary publishing story…
This part was really interesting. I liked the story about Darcy getting published. As a reader, I was interested in the publishing world – how authors get agents, find publishing houses, editing. I think this was all described really well, mostly in part to Westerfeld's own experience as an author. Therefore, I'm assuming this is mostly how the whole 'getting published' thing goes down, although some stuff was really annoying. These authors had the most annoying phrases like 'protag' (just say protagonist! it's a couple extra syllables, that's it!), 'I'd TBR that' (no, no, no), 'deb sisters' (I really hope no debut author runs around like that).
But then you stuck the publishing story into the hands of Darcy, one of the most frustrating protagonists (see, I did it!) ever. She never gets anything done and then freaks out when it's due in a week. She blows her entire budget. Darcy lacks any amount of responsibility and I found it so hard to like her character. Everything that is happening to her is great and amazing, but it doesn't seem like she cares about any of it. If I was getting published and didn't have another job or anything, I would be dedicated to waking up everyday with the goal of making my novel better. But Darcy wakes up everyday with the goal of getting the best Ramen noodles in New York. She's so irresponsible and it's so annoying because I just kept wanting her to grow up and adapt to the situation!
Another of my qualms with Darcy is her relationship with Imogen. Darcy literally runs around immediately being in love with Imogen right after their first kiss, which takes place a couple weeks after they meet, and by the end of the book, is declaring Imogen as her soulmate. Yep. She gives up so much of her time that she could be writing trying to fix all of Imogen's writing problems. She's so clingy all the time. There's also the whole trust issue, which is a little too commonly used, but it worked in this case because of the pen name aspect for Imogen. I also hated how lightly they took the LGBT issue. I get that the book is about publishing, but there is no mention of any type of problems considering their relationship, especially with them living in New York and becoming an author. There has to be more backlash than what they get. When it is mentioned, it barely even brings up the point but in a side note. This relationship killed any hope of me feeling for Darcy.
Overall…
This book had a billion problems. The characters weren't very likable, the plot was boring in one part, and it just wasn't working as a whole. I really liked the concept of a author going through the publishing process and then reading her book, but this just didn't sell the concept for me.