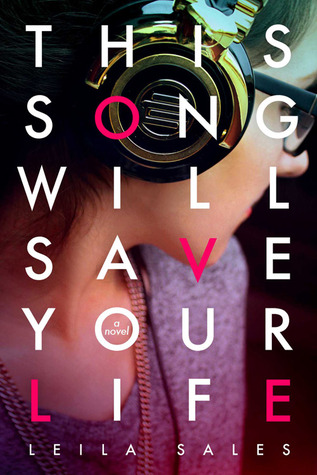 This Song Will Save Your Life by Leila Sales
Published Farrar, Straus, and Giroux 2013
Format: Hardback from the library
Genre: Young Adult Contemporary
Buy this book: Amazon – Barnes & Noble
Making friends has never been Elise Dembowski's strong suit. All throughout her life, she's been the butt of every joke and the outsider in every conversation. When a final attempt at popularity fails, Elise nearly gives up. Then she stumbles upon a warehouse party where she meets Vicky, a girl in a band who accepts her; Char, a cute, yet mysterious disc jockey; Pippa, a carefree spirit from England; and most importantly, a love for DJing.
Told in a refreshingly genuine and laugh-out-loud funny voice, THIS SONG WILL SAVE YOUR LIFE is an exuberant novel about identity, friendship, and the power of music to bring people together.
THIS BOOK WAS PERF.
I haven't been reading a lot of really good books lately, but I had heard so many good things about this book from bloggers I really trust. So I decided to pick it up, super excited. And it more than delivered on the hope for a good book.
Elise has such a strong, quirky voice throughout the entire book. Even during intense bullying scenes that broke my heart, she kept this really interesting way of thinking. It showed a happiness and optimism through everything, poking through her bad days. She realizes that there is something worth living for, although she may not know what that is until she starts DJing. Her passion and dedication for being a DJ is so awesome. I loved her discovery process as she got better and better. She wasn't instantly good at DJing, she knew music but that was it. Elise learned about the technical stuff and reading the crowd. It made me want to learn how to DJ.
Of course, Elise's bullying is also a huge part of the plot. It isn't shoved aside for the story of discovery either. It is really important to Elise and her character. There were many intense bullying scenes that broke my heart and left me crying, multiple times. I think the way her parents stood up to the school was really important. While the school did the normal thing and refused it, some of her classmates stood up and took the time to address the problem. That was really great to see. This was one of the most powerful depictions of bullying I have ever read and I'm really happy I did.
Elise's friends were so great. I loved Vicky and how she took Elise under her wing. Pippa was so much fun, although she did get a little crazy, but she was important for Elise. Char was a little annoying and mysterious, but that was a part of his character. Elise and Char was understandable, and while I wasn't totally for it, Elise was really smart about it. There was no insta-love for her and she kept her head throughout the boy drama. I loved what happened in the end though with her relationships. Even her two friends at school were super fun with all their little quirks.
That's ultimately what made the book too – all the character's quirks. Elise is a quirky person. She's not a normal teenager, and this book is about accepting who you are. All of the characters were really unique (including the parents! who had personalities!). Even the plot was unique. I have never read a book anything like this. It is a beautiful story, told beautifully. Leila Sales is a really great writer and I can't wait to read whatever she writes next.
Overall, this was a GREAT contemporary and more people need to read this amazing book! It's full of fun, quirky characters, an interesting plot, plenty of life stuff, some heartbreaking bullying topics, and a really great ending.