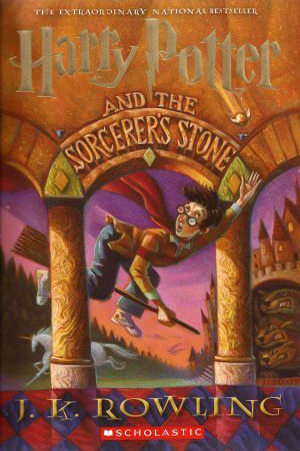 Harry Potter and the Sorcerer's Stone by J.K. Rowling (Harry Potter #1)
Published Scholastic 1997
Genre: Children's Fantasy
Format: Paperback
Buy this book: Amazon – Barnes & Noble
Harry Potter has never played a sport while flying on a broomstick. He's never worn a Cloak of Invisibility, befriended a giant, or helped hatch a dragon. All Harry knows is a miserable life with the Dursleys, his horrible aunt and uncle, and their abominable son, Dudley. Harry's room is a tiny cupboard under the stairs, and he hasn't had a birthday party in ten years.
But all that is about to change when a mysterious letter arrives by owl messenger: a letter with an invitation to a wonderful place he never dreamed existed. There he finds not only friends, aerial sports, and magic around every corner, but a great destiny that's been waiting for him… if Harry can survive the encounter.
I read the Harry Potter series seven years ago, all the books back to back throughout one summer. I have never seen any of the movies. So needless to say, the series has left my memory a little bit. I remembered some of the characters and a little bit about the plot, but nothing really in detail. For some reason, I decided to pick this book up and reread.
It really surprised me just how much I didn't remember from these books. I thought I would remember most of the major plot details, when I remembered almost nothing. Except for some basic facts about Hogwarts, this book was like reading it for the first time. The plot all seemed really new and fresh, without knowing what was happening. In fact, the ending totally caught me by surprise. After having this experience with the first book, I am definitely going to try and reread the rest of the series!
Anyway, I really love Harry Potter and the world. It's all so deep and creative. I loved just how different and fun Hogwarts was. Everything was described in such great detail that it really kept the book entertaining. I always had such a clear picture in my mind of everything that was happening – from their surroundings to the people around them. It was like watching the movie in my head. I've never seen the movies, but of course, I know the cast so I could put their faces in for the characters and that made it really fun too. I'm beginning to think that I should read books after the cast is released but before the movie comes out for the best reading experience…
The plot was super good. It really impressed me how young Harry and his friends were but they were still so smart. He had such great adventures with Hermione and Ron. The little distinct things about their characters were also really fun. I loved how brave Harry was throughout the whole book. Ron was super funny, as was Dumbledore. Hermione was so great and nerdy and smart. I loved her so much! I think that all of the characters are really relatable. I didn't really get that from reading it the first time around, but I really see that reading it now.
J.K. Rowling's writing was so clean and descriptive. Everything was described so well that I got a clear picture of everything. I don't typically like fantasy books because of a lack of detail in most books, but that was no problem with this. All the characters were distinctive and really fun. Having read the rest of the series, I could also see little things that connected to future books.
Overall, I loved this book. I had a great time rereading it and discovering my love for the series. As an older reader, I can say that it really is one of my favorites and find all the amazing things about this book.