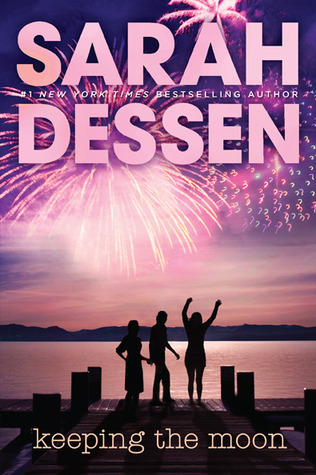 Keeping the Moon by Sarah Dessen
Published Speak 1999
Genre: Young Adult Contemporary
Format: Kindle ebook
Buy this book: Amazon – Barnes & Noble
Colie expects the worst when she's sent to spend the summer with her eccentric aunt Mira while her mother, queen of the television infomercial, tours Europe. Always an outcast — first for being fat and then for being "easy" — Colie has no friends at home and doesn't expect to find any in Colby, North Carolina. But then she lands a job at the Last Chance Cafe and meets fellow waitresses Morgan and Isabel, best friends with a loving yet volatile relationship. Wacky yet wise, Morgan and Isabel help Colie see herself in a new way and realize the potential that has been there all along.
This is my second Sarah Dessen book (the first two were Along For the Ride and Just Listen) and I expected the same thing I had read in the last two books – beach town and a nice boy. However, this really wasn't a romance book. It did have the beach town thing though, and it was actually the same city as Along For the Ride, which I really liked.
I think the best thing about this book was that it was her two friends, Morgan and Isabel, who were helping her become more confident and not the love interest. All three girls had a really good relationship with each other. As much as I loved hearing about Colie, I also liked Morgan and Isabel. Morgan is long distance dating a baseball player, who is rarely ever seen. Her character also quits her job almost every day and comes right back within the hour! It's little quirks like that to make Sarah Dessen's characters really distinguishable and fun. Isabel is a little bit meaner to Colie at first, but they are both in a very similar position that they can relate with each other. There is a little bit of a romance, but it's not a big deal or the star of the book.
Colie's story is really great. She is struggling with her confidence. After losing weight and dealing with bullies, she's gotten into that hard-core look and is having a bit of an identity crisis. It's so nice to see her gain more confidence throughout the summer. There are so many themes in here that you can really relate to in this book. I think it's one of my favorite Dessen books just for this theme. It's not unrealistic either, like some magic event where everything just clicks. She relapses throughout the summer as her problems are confronted, but at the end, she realizes what can be really great about herself and beauty and confidence. It's a great character arc that is so fun to read.
This is one of the earlier Sarah Dessen books, but the writing is really good. It does have a couple of obvious 90s things, showing its age (they play CDs…), but it still has good themes. All of the characters have little quirks, one of my favorite things about reading these books. They just have an overall good feeling to them. This one also came with a really good lesson as well, so I would highly suggest this to anyone looking for a good summer read!