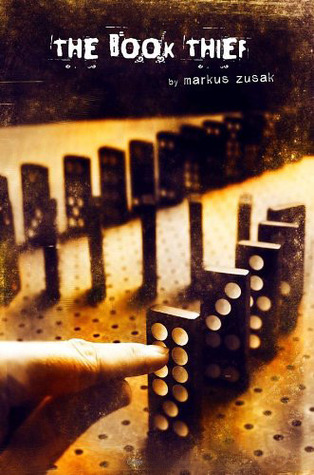 The Book Thief by Markus Zusak
Published Knopf Books 2006
Genre: Young Adult Historical Fiction
Format: Kindle ebook
Buy this book: Amazon – Barnes & Noble
It is 1939. Nazi Germany. The country is holding its breath. Death has never been busier, and will become busier still.
Liesel Meminger is a foster girl living outside of Munich, who scratches out a meager existence for herself by stealing when she encounters something she can't resist–books. With the help of her accordion-playing foster father, she learns to read and shares her stolen books with her neighbors during bombing raids as well as with the Jewish man hidden in her basement.
In superbly crafted writing that burns with intensity, award-winning author Markus Zusak, author of I Am the Messenger, has given us one of the most enduring stories of our time.
This book took me a while to finish. I picked it up last summer, but I put it down for some new release. Anyway, I decided that I would finish the last forty percent or so. That's my little disclosure for the rest of this review. There was a whole year in between, so I don't remember too much of the original book, but I did remember all the characters and people even though I did start it halfway through a while later.
Overall, this book was so powerful. I think the ending is one of the most beautiful endings that I have ever read. I really appreciated the way it ended. It was so sad and I cried through pretty much the entire last chapter. And of course, I read it on public transportation… Liesel was such a fun main character. She had a great, fun little personality of a curious young girl growing up in this time period. I think it's really great when a character in  a historical figure seems very realistic to the time period and all of the characters in this book really seemed to be quite in the time period. I loved the relationship with her foster parents, Rudy, and Max. They were all so important to her and it was great to see her appreciation for them.
One of the main parts of this book is that it is narrated by Death. This point of view threw me off a couple of times, just assuming that it would be Liesel's perspective, but it was a really unique way to write the book. I understand why it was written from this perspective and I think it added a lot to the book. It allowed for him to move around the world and tie some things up later or move around Europe to see various other characters.
The plot of this book – stealing the books in the Nazi Germany – was really interesting. I liked the moral about the power behind words. One of my favorite quotes from this book was, "I have hated words and I have loved them, and I hope I have made them right." That little sentence just makes the entire book in a short summary. This book was written really well and beautifully. The story was nice. I wish there was a little bit more historical information in this, especially dealing with Nazism, although I did like the main point about how they were able to take over control through words and how powerful they really can be. I think that's a lesson especially important to today as well.