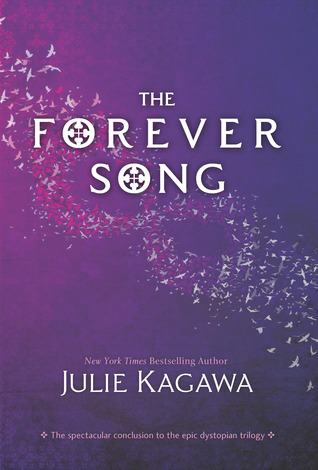 The Forever Song by Julie Kagawa (Blood of Eden #3)
Published Harlequin Teen 2014
Genre: Young Adult Paranormal
Format: Hardback from the library
Buy this book: Amazon – Barnes & Noble
The rest of this review has spoilers for the first two books in the series! If you have not read these books yet, I really suggest doing so! They are AMAZING.
Vengeance will be hers.
Allison Sekemoto once struggled with the question: human or monster? With the death of her love, Zeke, she has her answer.
Monster.
Allie will embrace her cold vampire side to hunt down and end Sarren, the psychopathic vampire who murdered Zeke. But the trail is bloody and long, and Sarren has left many surprises for Allie and her companions – her creator Kanin, and her blood brother, Jackal. The trail is leading straight to the one place they must protect at any cost – the last vampire-free zone on Earth, Eden. And Sarren has one final, brutal shock in store for Allie.
In a ruined world where no life is sacred and former allies can turn on you in one heartbeat, Allie will face her darkest days. And if she succeeds, her triumph will be short-lived in the face of surviving forever alone.
THE FINAL HUNT IS ON.
This was such a good ending to one of my favorite series. It wrapped everything up perfectly and just how it should have ended. I think the second book is still my favorite of the three, but this book continued to deliver on amazing action scenes, brilliant world building, and great character development. Every character in this series developed in this book which is a little bit hard to do. I loved seeing how Allie dealt with Zeke's death and trying to become a monster, although she does always have this hopeful sense to it, which is really cool. Kanin is just, well, he comes full circle in this book. And Jackal, my favorite character, was so funny with all of his witty lines, but he also got a new humanity (that's not the right word…) that made him a more tragic character. I loved seeing him develop throughout all the challenges they are faced with going to Eden. The last chapter killed me – it was so sad to see where all the characters would be going next, although I really loved where they all ended up. It's a perfect ending.
The majority of this book focuses on the conclusion of the battle with Sarren, which leads them on an epic journey going back to Eden. There are some really great action scenes constantly in the book, but it's never overwhelming. I really liked how Julie Kagawa never shies away from the violence or gore, but it's not too much. It's perfect for a book like this. There are many rabid attacks which always lead to some conclusion, so there is never unnecessary violence. And they are all described really nicely so it's easy to follow what is happening during a battle, which can sometimes be a struggle in action books for me. As always, this type of vampire is so unique and it just got better as we learned more about what they can do.
There are also some major plot twists in the book, which kept it constantly interesting and excited. I adored watching all of the characters figure out some great questions, dealing with being a monster or being human, accepting who they were, and dealing with the struggle of being a vampire. It brought many points in the book around, giving Allie some answers about who she was and who she wanted to be after the book concluded. And really, this series is a lot more than just a good vampire story (which it is), but it also has some great points about humanity, making it one of my favorite series. I love it when a book can be both rewarding emotionally as well as entertaining and that's what this final book really confirmed for me.
I LOVE THIS SERIES.