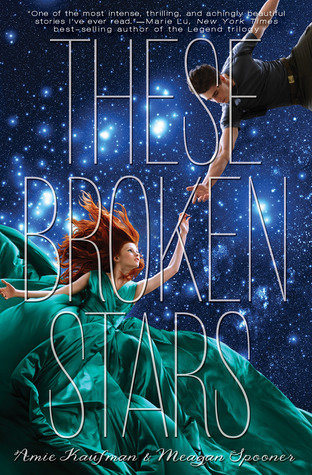 These Broken Stars by Amie Kaufman and Meagan Spooner (Starbound #1)
Published Disney Hyperion 2013
Genre: Young Adult Sci Fi
Format: Hardback from the library
Buy this book: Amazon – Barnes & Noble
It's a night like any other on board the Icarus. Then, catastrophe strikes: the massive luxury spaceliner is yanked out of hyperspace and plummets into the nearest planet. Lilac LaRoux and Tarver Merendsen survive. And they seem to be alone.
Lilac is the daughter of the richest man in the universe. Tarver comes from nothing, a young war hero who learned long ago that girls like Lilac are more trouble than they're worth. But with only each other to rely on, Lilac and Tarver must work together, making a tortuous journey across the eerie, deserted terrain to seek help.
Then, against all odds, Lilac and Tarver find a strange blessing in the tragedy that has thrown them into each other's arms. Without the hope of a future together in their own world, they begin to wonder—would they be better off staying here forever?
Everything changes when they uncover the truth behind the chilling whispers that haunt their every step. Lilac and Tarver may find a way off this planet. But they won't be the same people who landed on it.
This book starts out like Titanic and then ends up to be an amazingly epic survival story with a mix of aliens, which is pretty much exactly how I like my books. This story was really beautiful and really well written. There are dual points of view from both Lilac and Tarver, both of which I really enjoyed. There are also little glimpses of what Tarver is saying in interviews after the events in the book have happened, which just adds to the suspense. I felt like both of the perspectives were written very well and worked nicely together. I'm not sure how both authors worked on this, but it felt like each one took a different chapter.
The plot of this book was very suspenseful. After the ship crashes (which was amazingly described), the majority of this book focuses on their survival on the new planet. I really liked how this was always purposeful. They always wanted to make it to a certain point and they weren't just stumbling around which generally makes the book a little bit more tedious. However, I did find this book to be a little bit boring at times. It just felt like nothing was really happening, but once some of the cooler sci fi and romance aspects kicked in, I just could not stop reading. So, if you don't like how the book is starting, I would encourage you to push through because it does get a lot better!
Lilac and Tarver were both great characters. Lilac is the daughter of a rich businessman who owns the ship. I loved how she changed throughout the book from being a really prissy girly girl to standing up for herself and taking on a bit of her own survival. Tarver was a great help to her through the book as well. As a soldier, I liked seeing how he changed as his skills were put through a real test. It is mentioned that he is a great war hero, but I really wished we had more detail about his experience in the military. Most of this was just skipped for his tragic family background, which I liked, but I felt like having more about him would have done a lot better.
Throughout this entire book, I just really wanted to know how it would end and I am so happy with the ending. I just wish that we got a sequel that stayed with these two amazing characters! The next book is a spin off with two new characters in this world, but I'm still so excited for the next book. I just wish there was like a cover change or at least a font change…the font was really small and I don't really like the cover. But that's not really important because the story is really great!