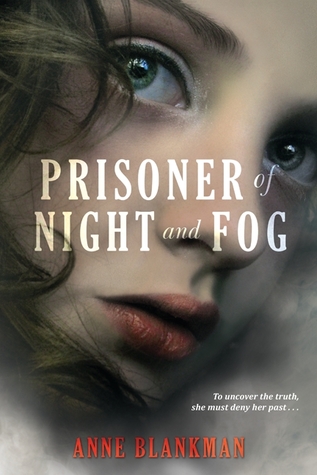 Prisoner of Night and Fog by Anne Blankman
Published Balzer and Bray 2014
Genre: Young Adult Historical Fiction
Format: Hardback from the library
Buy this book: Amazon – Barnes & Noble
In 1930s Munich, danger lurks behind dark corners, and secrets are buried deep within the city. But Gretchen Müller, who grew up in the National Socialist Party under the wing of her "uncle" Dolf, has been shielded from that side of society ever since her father traded his life for Dolf's, and Gretchen is his favorite, his pet.
Uncle Dolf is none other than Adolf Hitler.
And Gretchen follows his every command.
Until she meets a fearless and handsome young Jewish reporter named Daniel Cohen. Gretchen should despise Daniel, yet she can't stop herself from listening to his story: that her father, the adored Nazi martyr, was actually murdered by an unknown comrade. She also can't help the fierce attraction brewing between them, despite everything she's been taught to believe about Jews.
As Gretchen investigates the very people she's always considered friends, she must decide where her loyalties lie. Will she choose the safety of her former life as a Nazi darling, or will she dare to dig up the truth—even if it could get her and Daniel killed?
From debut author Anne Blankman comes this harrowing and evocative story about an ordinary girl faced with the extraordinary decision to give up everything she's ever believed . . . and to trust her own heart instead.
This may just be one of my new favorite books…I just loved this story so much!
The thing that made me really fall in love with this book was the crazy amount of fact it had woven throughout the story. The main premise of this story is for Gretchen to figure out what happened to her father when he died. And as she went along from various people to hear their account of the events, she gets real facts about Hitler's life, heard from real people that actually lived and knew Hitler. And it's amazing how that was able to all be put in one huge story line, that isn't even that far off from an event that actually happened. The entire author's note with the history just kept blowing my mind – the way Anne Blankman was able to pull so many different influences, anecdotes, people together from Hitler's life and put them in one story was incredible. In most historical novels, there is so much liberty taken with the story that it's hard to even call it 'historical fiction.' But this was one of the best I've read in a very long time and I would really suggest it!
One of my other favorite things about this book, and the thing that made me want to read it when I saw it sitting on the shelves of Barnes and Noble, was Hitler. Hitler is a person that we all know as pure evil, and I had never read a book with him as a character before. And by character, I mean he has dialogue. And contributes to the plot line. The best part was that Gretchen was so involved with him. It would not be an easy task to write about such a terrible person, especially a real person, but he was done so well. He creeped me out so bad in so many scenes and I hated him. Like, a lot. And I think everyone would. Once again, the amount of research in this book was incredible. Also, Hitler could have died very early on in his career – why did that not happen? Like, so much would've changed…just so much. (See, I learned things from this book!) Anyway, this element was one of my favorites because it was so unique to this story. And if I had to guess, I would say he probably was exactly like written here.
Anyway, onto Gretchen. Gretchen was such a good character. She had her flaws, but also her strong points. She made mistakes too, but she did some things right. She felt like a normal person, tied up in the inner workings of the National Socialist Party. I loved seeing her deal with all the inner drama of this political party, most of which were real events (again, amazingly done!). Her friends and their fates were so interesting and unique. I really liked, well hated actually, her family situation and her abusive brother. He helped bring in the point about psychopaths and psychoanalysis, which was very popular at the time. I liked Dr. Waterhouse as well because he helped bring in the psychology aspect of Hitler's reign, something I have always found very interesting. All of things about psychopaths was just so interesting. And, speaking of Gretchen, we must talk about Daniel! I loved Daniel so much. His relationship with Gretchen was so heart warming. It's been a while since I read a really good relationship like that.
Once again, the plot was just so twisty and crazy! I loved hearing everything about Hitler and his National Socialist party. There was so much drama and mystery surrounding everything that made this book a really good read.
I highly suggest this book!