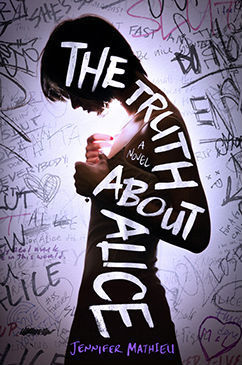 The Truth About Alice by Jennifer Mathieu
Published Roaring Book Press, June 3 2014
Genre: Young Adult Contemporary
Format: I received an egalley of this book from the publisher. This does not affect my opinions or this review in any way.
Buy this book: Amazon – Barnes & Noble
Everyone has a lot to say about Alice Franklin, and it's stopped mattering whether it's true. The rumors started at a party when Alice supposedly had sex with two guys in one night. When school starts everyone almost forgets about Alice until one of those guys, super-popular Brandon, dies in a car wreck that was allegedly all Alice's fault. Now the only friend she has is a boy who may be the only other person who knows the truth, but is too afraid to admit it. Told from the perspectives of popular girl Elaine, football star Josh, former outcast Kelsie, and shy genius Kurt, we see how everyone has a motive to bring – and keep – Alice down.
WOW. This book is incredibly fresh and stunning. I seriously loved every page of it, totally eating up everything this book had to talk about. The message is incredibly moving and touching, poking at something that is at the heart of the modern culture. This book may be one of my new favorite sad contemporaries. Is it weird I have favorite sad books? Okay, whatever.
My favorite part of this book was the four different perspectives. Each one was written differently, so even without the indicators before each chapter, you could probably figure out who each of them was just by the writing style. Elaine's voice was so captivating. She's the popular girl and tells her story just in that way – with so much confidence, a little bit of spite, and an extremely capable tone. I felt like her chapters were the strongest, but that doesn't mean they were my favorite or I couldn't wait for the next one, because I loved them all equally. Kelsie's story was probably my favorite, just because it seemed so real. The choices she makes are really realistic and I could see this happening at any high school. Sure, what she does is pretty terrible, but she's acting based on this fear of being alone again. Josh's perspective was probably the least helpful as for pushing the story along, but it was good to see who Brandon was. And I didn't really like Brandon, thanks to this look at him. Yet, I also understand why everyone did love him. Kurt was such a great guy and character and I loved seeing his relationship with Alice develop. I felt like the ending was a little bit vague and rocky there, but I'm sure that it was the right way for the book to end.
The plot was so good. There was no time wasted before jumping straight into the story. Things are referenced that the reader doesn't know and those are exposed at such good times, so it keeps you reading but not angry because you are left in the dark the whole time. Obviously, this book deals with 'slut shaming' which is actually somewhat of a problem. And it was handled really well. I liked Alice and her reactions to everything. She was so broken by this experience, especially her betrayal from her best friend, Kelsie. It was a really heartbreaking story to read about.
Overall, this was a beautiful book! I loved reading about Alice's story from the four perspectives. All of the characters developed really nicely, the small town setting was perfect for a story like this, and the topic was addressed in a good manner. I would really suggest picking up this book if you are at all interested in the topic, because it does a great job with it.