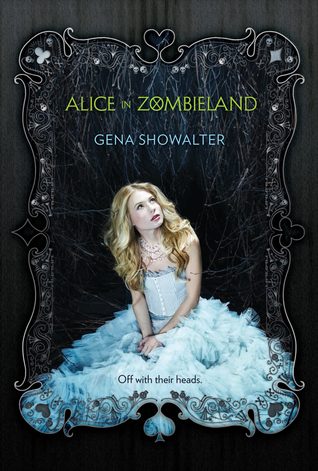 Alice in Zombieland by Gena Showalter (White Rabbit Chronicles #2)
Published Harlequin Teen 2012
Genre: Young Adult Zombies
Format: Hardback from the library
Buy this book: Amazon – Barnes & Noble
She won't rest until she's sent every walking corpse back to its grave. Forever.

Had anyone told Alice Bell that her entire life would change course between one heartbeat and the next, she would have laughed. From blissful to tragic, innocent to ruined? Please. But that's all it took. One heartbeat. A blink, a breath, a second, and everything she knew and loved was gone.

Her father was right. The monsters are real….

To avenge her family, Ali must learn to fight the undead. To survive, she must learn to trust the baddest of the bad boys, Cole Holland. But Cole has secrets of his own, and if Ali isn't careful, those secrets might just prove to be more dangerous than the zombies….


I wish I could go back and do a thousand things differently.
I'd tell my sister no.
I'd never beg my mother to talk to my dad.
I'd zip my lips and swallow those hateful words.
Or, barring all of that, I'd hug my sister, my mom and my dad one last time.
I'd tell them I love them.
I wish… Yeah, I wish.
Okay, let's get something straight here first. THIS BOOK IS NOT AT ALL ABOUT ALICE IN WONDERLAND. The cover and the title are both lies or something to get you to read this or something. I don't know. But I was very, highly upset. I was expected something really cool with Alice returning to Wonderland and everyone is a zombie or something…but no. We got a regular old, high school zombie romance with no Alice references except her name. I am begging for a cover change and a title rename!
Now, to the actual review. This book was just a regular, plain zombie book. Alice has super cool zombie fighting powers that aren't recognized until a huge accident happens at the beginning of the book. The first chapter is probably the best of the entire book. She moves in with her grandparents, changes schools, and meets Cole, a bad boy who she has a major case of instalove with. Seriously. She meets him and immediately wants to kiss him. This later explained, but never why this happens to them. There are a lot of half explanations in this. It's your basic story set up. Even the zombies are fairly lackluster with okay action scenes. Nothing too unique or special.
Alice was nothing special. Cole was a typical bad boy that Alice, the nice girl, of course falls in love with and turns bad too. I liked her friend, Kat because she was so crazy and fun. She got a little annoying her relationship with Frosty although. The character development was okay but it was also a pretty basic arc. Even the villains and plot twists weren't really that intriguing.
Overall, this book was a bit of a disappoint. Nothing really stood out to me as special about anything in this book. It was just overall okay. It was some fun to read when the characters weren't being annoying, but it was anything fantastic. I'll continue in the series, but not immediately.