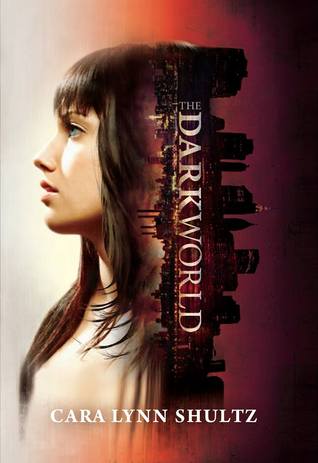 The Dark World by Cara Lynn Shultz (Dark World #1)
Published Harlequin Teen May 27 2014
Genre: Young Adult Fantasy
Format: I received an egalley of this book from the publisher and NetGalley. This did not change my opinion or the content of this review in any way.
Buy this book: Amazon – Barnes & Noble
Paige Kelly is used to weird–in fact, she probably corners the market on weird, considering that her best friend, Dottie, has been dead since the 1950s. But when a fire demon attacks Paige in detention, she has to admit that things have gotten out of her league. Luckily, the cute new boy in school, Logan Bradley, is a practiced demon slayer-and he isn't fazed by Paige's propensity to chat with the dead. Suddenly, Paige is smack in the middle of a centuries-old battle between warlocks and demons, learning to fight with a magic sword so that she can defend herself. And if she makes one wrong move, she'll be pulled into the Dark World, an alternate version of our world that's overrun by demons-and she might never make it home.
  Okay, so this book is very conflicting. Parts of it I loved, parts of it I hated. So, let's break this review up into pros and cons, shall we?
Pros
I loved Paige's sass and wit and humor. She was so funny in a quirky way. I found her a really relatable and funny character. She also talked in a really teenager-like way, which I really enjoyed.
The idea of the Dark World is so cool! I loved this alternate universe ruled by demons as a new take on this genre.
The inclusion of ghosts in a demon world was also very unique. As was warlocks fighting demons, not your classic angel v. demons battle going on.
The demons are really well described, including the different types of demons and what their powers were.
All of the action scenes were written really beautifully and it made those scenes really fun to read about.
The inclusion of parents in a book! Yay!
Cons
That was one big heaping of insta love. Seriously, so much insta love. It fixed itself toward the end, but there was still this voice reminding me of the insta love. They met each other and were in love. That's seriously how it worked.
The love interest, Logan, was a little bit sappy. He's just so…lovey about everything. And they are so young, yet he was pretty much giving his life to her. Often. That's not even a spoiler considering that's maybe the entire purpose of his character, bringing me to the next one…
Paige never saves herself! Logan always jumps in and does it for her. Now, I love a good, strong female character and Paige totally had that capability. But, she never did anything but waited for Logan. And I just wanted her to stand up for herself.
Her ghost friend, Dottie, and really all the minor characters felt undeveloped and unnecessary. Especially Pepper. No idea what her purpose was, yet there was so much focus on them.
The ending. It took the entire book to get to the ending. No spoilers here, but it makes me want to read the next one, but also really upset that we didn't get into it sooner.
That's about what happened with this book. I thought the plot was interesting, and especially the world building, but I did not really enjoy the characters or the love relationship. Overall, I am going to read the next book to see where this goes, but this book was not anything spectacular. For me, it is the essence of a three paw book.