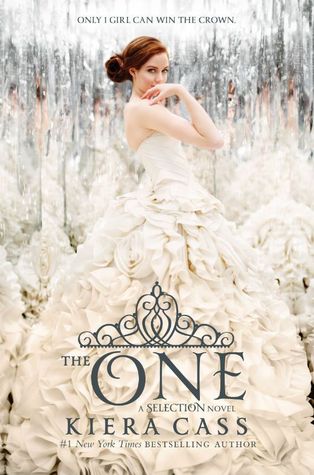 The One by Kiera Cass (The Selection #3)
Published HarperTeen 2014
Genre: Young Adult Dystopia
Format: Hardback from the library
Buy this book: Amazon – Barnes & Noble
The Selection changed the lives of thirty-five girls forever. And now, the time has come for one winner to be chosen. America never dreamed she would find herself anywhere close to the crown—or to Prince Maxon's heart. But as the competition approaches its end and the threats outside the palace walls grow more vicious, America realizes just how much she stands to lose—and how hard she'll have to fight for the future she wants.

From the very first page of The Selection, this #1 New York Times bestselling series has captured readers' hearts and swept them away on a captivating journey… Now, in The One, Kiera Cass delivers a satisfying and unforgettable conclusion that will keep readers sighing over this electrifying fairy-tale long after the final page is turned.
  The rest of this post will have spoilers for the first two books in this series – The Selection and the Elite! There are no spoilers for the One. I'm so sad about this series ending – seriously, I read the first book when it was published and so on and so on. This series is just so much fun, although I really find America so frustrating. Seriously. Girl cannot keep a decision for more than ten minutes. She is also so stupid at everything…her choices are the WORST. POSSIBLE. EVER. IN. THE. HISTORY. OF. ILLEA. So, she's still the same person she is throughout the first two books. And then finally, for maybe the last one hundred pages, she finally makes sense! And uses logic! And makes decisions that are at least kind of quality! Yay! Positive character development! (Okay, she did slip up that once at the end, but this is so much better than previous books).
As for the plot, this book has always been about the Selection and that is really resolved in this book. Maxon's choice was very well done and I really liked how he went through his decision process. As for the other girls, I really loved all of them in this book. Celeste turned out to be one of the best evolving characters, Elise was so sweet, and Kriss was still the same competition type for America. I liked where their friendship went between the four and it was so great to see them bonding, thanks to the push by Queen Amberly, who may be my favorite queen ever. She's just so nice! There is also some more development with the rebels and the caste system. This is a little bit more of a side plot, but it does a really good job with picking that story line up a little bit longer from The Elite. It developed the types of rebels and what they were fighting for. And some of their scenes got really scary – like there is some death in this book (that I did not expect and totally made me freak out) and some awesome encounters with the rebels. The resolution of this plot line was great and I loved the epilogue.
This series is just so much fun! It's not anything deep or incredibly moving, but I love this love triangle and the family and friends relationships in this book. I really suggest this series if you are looking for a really fun read and this book resolves it beautifully. Loved it. Except America. She's annoying…I feel kind of bad for the guy (avoiding spoilers here, friends) that has to live with her forever. She is so frustrating…………………………………………………………………….
Okay there are spoilers for the One down here too! I couldn't resist talking about them…so don't keep reading if you haven't read the One!!
*
*
*
*
*
Now, she picked Maxon!!! Yay!!! I knew this would happen, but I was still excited to see it fulfilled. And I was so sad to see the Queen and Celeste die. And America's father. Ahhh…there were some sad scenes. But I loved the wedding at the end! This was a really short spoilery section, but that's my thoughts on the resolution of the love triangle. Good job, Kiera Cass. You may have ended one of the best love triangles ever decently.