For today's Bout of Books challenge, Doing Dewey asked for us to share some of our favorite authors. So here are my top 5 favorite authors that I love to interact with!
Susan Dennard: author of the Something Strange and Deadly series
Twitter: @stdennard
Bio: I am a writer, reader, lover of animals, and eater of cookies. I used to be a marine biologist, but now I write novels. And not novels about fish either, but novels about kick-butt heroines and swoon-worthy rogues (I really like swoon-worthy rogues).

I live in the Midwest with my husband and two dogs (Asimov and Princess Leia), and you can learn more about my crazy thoughts and crippling cookie-addiction on my blog or twitter.

My debut, SOMETHING STRANGE AND DEADLY is now available from HarperTeen along with the prequel, A DAWN MOST WICKED, and the sequel A DARKNESS STRANGE & LOVELY.

Look for STRANGE & EVER AFTER in summer 2014 and TRUTHWITCH in fall 2015!
Why I love her: Her writing is so good! I can definitely see her being a new and upcoming author. Plus, she is so nice and really loves her fans! Also, her writing tips are great. 🙂
Marissa Meyer: author of the Lunar Chronicles
Twitter: @marissa_Meyer
Bio: I live in Tacoma, Washington, with my fiancé and our two cats. In addition to my slight obsession with books and writing, I'm big on road-tripping, wine-tasting, and hunting for antiques. I'm represented by Jill Grinberg.

CINDER, my debut novel, is a futuristic re-envisioning of Cinderella in which Cinder is a cyborg mechanic. Release date: 3 Jan 2012.
Why I love her: Her writing is so good and she is also a really great upcoming author! She interacts with all of her fans on Twitter as well and keeps up with her blog, so you really get to know her.
Wendy Higgins: Author of the Sweet Trilogy
Twitter: @wendy_higgins
Bio: After earning a Creative Writing degree from George Mason University and a Masters in Curriculum and Instruction from Radford, I taught high school English until becoming a mommy. I've always had a heart for teens, and writing YA stories gives me the opportunity to delve into the ambiguities of those pivotal years before adulthood.
I live in Virginia with my husband, daughter, son and doggie Rue.
Why I love her: Another really super sweet author on Twitter! She gives her fans what they want with little novellas and has a great website…
Tahereh Mafi: Author of the Shatter Me trilogy
Twitter: @taherehmafi
Bio: hiiiiiii i'm the author of the NYT bestselling Shatter Me series & i don't know what you've done differently with your hair today but i love it.
Why I love her: She is just so funny! She has a great Twitter account that is so relatable. Her writing is also stunningly beautiful! Seriously…just watch this.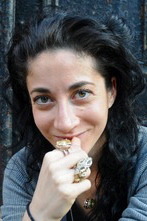 Lauren Oliver: Author of the Delirium Trilogy, Before I Fall, Panic
Twitter: @oliverbooks
Bio: Lauren Oliver comes from a family of writers and so has always (mistakenly) believed that spending hours in front of the computer every day, mulling over the difference between "chortling" and "chuckling," is normal. She has always been an avid reader. 

She attended the University of Chicago, where she continued to be as impractical as possible by majoring in philosophy and literature. After college, she attended the MFA program at NYU and worked briefly as the world's worst editorial assistant, and only marginally better assistant editor, at a major publishing house in New York. Her major career contributions during this time were flouting the corporate dress code at every possible turn and repeatedly breaking the printer. Before I Fall is her first published novel. 

She is deeply grateful for the chance to continue writing, as she has never been particularly good at anything else.
Why I Love Her: She's also so interactive with her fans! She also has such a great Twitter and great books with beautiful writing!
And another video with another author…
So those are some of my favorite authors! What are some of yours?